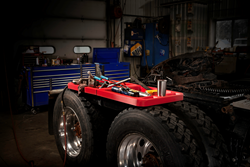 "For years, we've had repair shops ask us to make something like the Tandem Work Bench." - Minimizer CEO Craig Kruckeberg
(PRWEB) June 04, 2015
Life is hard, so everything else should be easy, which is why Minimizer is releasing its newest Maintenance Line product - the Tandem Work Bench.
The bench sits securely on tandems and holds up to 300 pounds of parts and tools.
"For years, repair shops have been looking for something like the Tandem Work Bench," Minimizer CEO Craig Kruckeberg said. "They were always having problems with tools falling off the truck, or bolts rolling off the tops of tires. This saves space when working on an engine teardown. Now there's room for everything."
The Tandem Work Bench features two removable tops, along with a deep base, and as usual, it comes with Minimizer's lifetime guarantee.
"The new Maintenance Line is taking Minimizer in an exciting new direction. There's already products inside the truck and outside the truck. The Maintenance Line allows customers to work on the truck," Kruckeberg said.
The Tandem Work Bench can be found at one of Minimizer's numerous distributors. To find one, go to http://www.minimizer.com.
ABOUT MINIMIZER
Minimizer is your aftermarket solution for quality and dependable Truck Parts, including everything from Poly Truck Fenders, Toolboxes, Custom Floor Mats, Mud Flaps, Truck Maintenance Products and other Truck Accessories. Minimizer uses durable materials and robotic production technology to create an industry standard that allows us to offer the longest guarantee in the industry. Use Minimizer's innovative products to make your truck stand out from the rest.
Minimizer manufactures its products in the heart of the USA, and has been an American family owned and operated company for three generations. Minimizer takes pride in being known for the toughest products in the toughest industry.
Check out all their products at Minimizer.com or email info@minimizer.com.
# # #