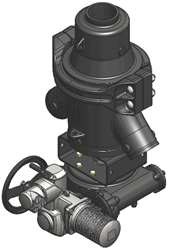 Easton, PA (PRWEB) February 24, 2014
Victaulic, the world's leading manufacturer of mechanical pipe-joining systems, introduces the Series 725 Diverter Valve, the industry's first grooved-end valve designed specifically for paste backfill lines. The valve improves the efficiency of backfill operations while providing durable, reliable service.
The Series 725 Diverter Valve eliminates the need to reposition fill lines, reducing handling and resulting in more efficient operations. Providing 180-degree service, the valve reduces the need for crews to manually redeploy backfill piping systems to other areas of the mine, saving time.
With a rugged ductile iron body and a 5D bend profile, the Series 725 ensures smooth, continuous flow and durable, reliable service. An adjustable stop ensures the plug aligns properly with the outlet to improve performance and reduce wear. The valve also features a tamper-resistant lockout and blowout proof stem design.
The Series 725 is available in a 6-inch (150 millimeter) size and withstands pressures of up to 1,000 psi (6,900 kPa). Designed with a standard ISO 5211 mounting flange, the valve can be provided with a gear operator or electric actuator for remote actuation.
For more information about the Series 725 Diverter Valve and other solutions for the mining market, visit the Victaulic mining piping systems page.
About Victaulic
Since 1919, Victaulic has been the world's leading producer of grooved mechanical couplings and pipe-joining systems. Used in the most demanding markets, Victaulic innovative piping technologies and services put people to work faster while increasing safety, ensuring reliability and maximizing efficiency. The company has 15 major manufacturing facilities, 28 branches worldwide and over 3,600 employees who speak 43 languages across the globe. With more than 900 active global patents, Victaulic solutions are at work in 115 countries across diverse business lines including oil and gas, chemical, mining, power generation, water and wastewater treatment, military and marine, as well as commercial building and fire protection. For more information visit http://www.victaulic.com and follow us on LinkedIn, Facebook, Twitter, and YouTube.