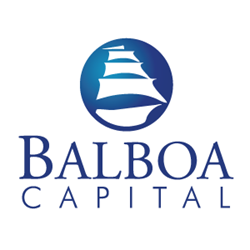 Adding talented personnel with a proven track record of success in the mining industry demonstrates our commitment to providing clients with exceptional, knowledgeable support
Irvine, California (PRWEB) June 03, 2014
Balboa Capital, a leading independent financing company in the United States, today announced the expansion of its mining equipment financing division. The company hired a team of highly experienced finance directors and account coordinator to strengthen its position in the mining equipment financing arena. Balboa Capital will be an exhibitor at the 2014 Elko Mining Expo in Elko, Nevada from June 5-6.
"Adding talented personnel with a proven track record of success in the mining industry demonstrates our commitment to providing clients with exceptional, knowledgeable support," said Phil Silva, President of Balboa Capital. "We are excited to welcome our new finance directors and are confident that they will deliver a value-added approach to our clients' equipment financing needs within the mining sector. Their extensive knowledge of the mining industry, along with their ability to develop and deliver the right capital equipment financing solutions, will benefit companies that work in the mining industry nationwide." Balboa Capital's mining equipment financing division structures financing programs ranging from $1 million to $100 million.
Balboa Capital will be an exhibitor at the 29th annual Elko Mining Expo, which draws nearly 8,000 mining industry professionals from around the world. The event will be held at the Elko Convention Center in Elko, Nevada. Balboa Capital's mining equipment finance directors will be in the Minor Miners Playground at Booth #759 from June 5-6. "The 2014 Elko Mining Expo presents us an opportunity to meet with mining and exploration companies, equipment dealers, business consultants and other industry representatives," said Mr. Silva. "We look forward to networking with everyone and showcasing our mining equipment financing capabilities to a large audience."
For more information about mining equipment financing with Balboa Capital, please contact Michael Curtis at (949) 383-9355 or via email at michaelc(at)balboacapital(dot)com. You can also download a complimentary mining industry infographic that was created by Balboa Capital.
About Balboa Capital
Balboa Capital is one of the largest independent finance companies in the nation delivering access to capital, speed of processing, leading-edge technology and state-of-the-art marketing tools that help fuel the growth and success of today's businesses and equipment vendors. In addition to corporate financing, the company's portfolio of financing options includes equipment leasing, franchise financing, equipment vendor financing and small business loan products. You can learn more about Balboa Capital by visiting balboacapital.com.