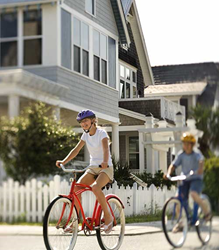 "We believe Minnesota has the best affordable housing system in the country, with a rare level of stable, longtime partnerships among engaged, creative, and capable entities throughout governmental and nonprofit sectors." ~ Minneapolis HousingLink
Minneapolis, MN (PRWEB) October 29, 2013
Minneapolis home affordability jumps from 3rd place in 2012 to 2nd place in 2013. Moving up in rankings, among the top 25 U.S. metropolitan housing markets tracked in the 2013 Home Affordability Study stands out, as most metros drop. Conducted by Interest.com, study results underscore just why many residents believe Minneapolis is a great place to live.
"Rising home mortgage rates reflect the positive side of a healing economy and Twin Cities housing market improvements; it also impacts Minneapolis home affordability margins. Metro home buyers benefit from a balanced perspective as Minneapolis home price appreciation gains and correspondingly home affordability dips," says Jenna Thuening, owner of Home Destination.
The Home Affordability Study compares the cost of buying a Minneapolis home to the average Minneapolis homebuyers income capacity. The median household income of Minneapolis/St. Paul mortgage applicants surpasses the income required to obtain a quality home loan when buying a median-priced home in the Minneapolis/St. Paul area by 24 percent. That's a drop from 32 percent last year.
"With a better understanding of how the two work together, Minneapolis home buyers can make well-informed housing decisions. It is one thing to buy a home because you can afford it and choose to ahead of higher interest rates or other influencing factors, versus jumping into a home purchase before being ready," adds Thuening. "You may not be in college any longer being graded on a report card, however, every home mortgage holder is assigned a grade."
To better understand just how, 2013 Home Affordability Study results state that an Affordability Grade of "C" indicates that a Minneapolis home buyer making the median income can afford the median-priced home. It defines the Paycheck Power Rating as being "the percent the median income exceeds or falls short of the income required for a median-priced home."
Interest.com's website offers comment on the national levels of home affordability: "An ugly combination of rising home prices and higher mortgage rates nearly doubled the number of cities slapped with failing grades in this year's study. Indeed, 13 of the nation's 25 largest metro areas earned a D or F and the dubious distinction of having the least affordable housing markets."
According to Interest.com, in 2012 Minneapolis Pay Check Power Rating was 32.20%, and today in 2013 it stands at 23.86%. The difference reflects the impact of increasing Minneapolis home values and home prices. Their ratio of gains top the level of income increases. Today, only Atlanta's housing market stands higher at 24.92%.
To determine how far a paycheck will to toward Minneapolis affordable housing, lenders are considering not just one, but several areas. Home Destination finds that homeowners have several factors to consider:
1) Monthly mortgage payment
2) Property taxes
3) Homeowners insurance
4) Interest rates
5) Housing ratio
Minneapolis is seeking to make affordable housing more accessible and is reaching beyond traditional investment approaches. Cost-effective investments provide long-term benefits and build bridges for more families to live in affordable, healthy, and sustainable homes. "We believe Minnesota has the best affordable housing system in the country, with a rare level of stable, longtime partnerships among engaged, creative, and capable entities throughout governmental and nonprofit sectors. For future success, these committed partners will need to adapt and innovate in a shifting affordable housing field, reaching beyond the status quo", says HousingLink.
In the race for Minneapolis Mayor, the development of affordable housing is recognized as a topic critical to the future of residential communities. Read the Minneapolis Mayoral Candidates Weigh in on Affordable Housing article in MinnPost August 8, 2013. It give a great summary of candidate comments when asked how they are postured on Minneapolis affordable housing. Opinion was expressed that as the numbers increase of single family homes that are converted from rentals to residents increases, local real estate neighborhoods improve.
Home Destination helps Twin Cities home buyers purchase the house of their dreams and gain a house they can afford. Given the complexity of today's housing market, individuals preparing to buy a home engage the professional guidance of a local Realtor; call Home Destination at 612-396-7832.