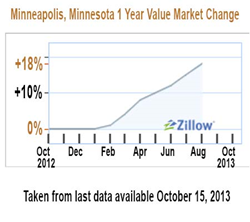 "Minneapolis 18th consecutive monthly year-over-year increase in home prices. As purchase volumes continue to slowly rebound, we expect to see a flight to quality as borrowers value service." CoreLogic
Minneapolis, Minnesota (PRWEB) October 20, 2013
Minneapolis home values year over year have an 18 % increase as reported by Zillow and Real Estate ABC. Minneapolis housing market data suggests that the Twin Cities housing market is reacting to mortgages rate increased "little" to "none". Due to the Minneapolis strong value market changes, many homeowners have found they can move forward and sell their home.
"It is interesting to observe that Minneapolis home prices, when looked at in terms of payments in real dollars, are still remarkably affordable regardless of recent mortgage rate increases," says Jenna Thuening, owner of Home Destination. "Home values are based on homes sold prices, public records of assessed values of homes near the address, and area real estate values."
Minneapolis, Minnesota Home Values Increase. As of October 15, 2013, housing statistics from Zillow as compiled by Real Estate ABC indicate the Median Home Price of sold Minneapolis homes breaks down in the following manner:
Minneapolis Single-Family 4 Bedroom Home - $256K
Minneapolis Single-Family 4 Bedroom Home - $223K
Minneapolis Single-Family 2 Bedroom Home - $194K
Minneapolis Single-Family 1 Bedroom Home - $168K
The Department of Numbers posts a history of Minneapolis Asking Prices. "The median asking price for homes in Minneapolis peaked in June 2006 at $257,375 and is now $20,425 (7.9%) lower. From a low of $174,950 in February 2011, the median asking price in Minneapolis has increased by $62,000 (35.4%)," according to the report. Minneapolis 1 year value market changes stand above the national average. Showing an even stronger numbers, Minneapolis median asking price is now $239,000, an increase of 19.5% year over year. Home sellers have been taking the plunge and listing their homes for sale, causing a Home Listings/Inventory to increase slightly at 13,140, which is up .2 percent. Other positive news shows that nationally 8.3 million homeowners benefit from improved market values and are now only slightly underwater or near even, putting them on track to have enough equity to sell. The 8.3 million include homeowners that have a loan-to-value (LTV) ratio from 90 to 110 percent; therefore they have between 10 percent positive equity due to value market changes and 10 percent negative equity. These homeowners represented 18 percent of all U.S. homeowners with a mortgage as of the beginning of September.
Minneapolis market changes as updated by Case Shiller Home Price Index, place the current level at 134.91, up from 132.47 last month and up from 123.23 one year ago. This reflects a positive change in Minneapolis home values as reported by Case Shiller of 1.84% from last month and a median of 9.48% from one year ago. At the beginning of the year, on Jan. 31, 2013 it was 125.49, increasing by May 31, to 129.40 and by July 31, to 134.91.
The Minneapolis housing recovery is clearly sustained throughout the Minneapolis - St. Paul metropolitan housing market even with snips of fall weather. Minneapolis home sellers regain enthusiasm as new real estate listings rose 19.3 percent to 6,372, marking the sixth consecutive year-over-year increase in monthly seller activity, according to the Minneapolis Area Association of Realtors. As sellers find that their current home has sufficient market value to sell and buy another home, they have stepped up to meet strong Minneapolis home buyer demand.
"With home prices expected to continuing gaining and multiple-offer situations still happening, the Twin Cities housing market recovery and stability seems to be continuing even as we anticipate the typical seasonal slowdown. An economic turnaround has occurred in the Twin Cities which has helped to propel the housing market across the metro," adds Thuening. Year-over-year buyer activity reflects consumers positive outlook that Minneapolis home value market changes will remain positive.
Home Destination, a Minneapolis Residential Property Expert and professional Realtor with RE/MAX Results, helps Twin Cities real estate sellers determine their Minneapolis, MN home value in preparation for selling. Call 612-396-7832 and ask for Jenna Thuening if planning to buy or sell a home this fall.