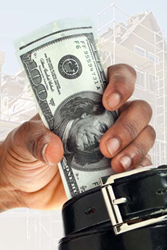 "Current market conditions are demanding a solution to the distressed and aging housing stock, creating an ideal environment for the 203k Home Improvement loan." HousingWire
Minneapolis, MN (PRWEB) December 17, 2013
While positive Twin Cities housing trends, such as increasing home values, are anticipated to continue into 2014, new FHA mortgage limits coming January 2014 could put a crimp in some Twin Cities homebuyers' abilities to afford new homes or rehab homes. However, FHA home improvement loans can still inspire New Year's hope for 2014, once Twin Cities borrowers understand FHA mortgage limits per location.
"Homebuyers who buy an older home or Minnesota foreclosed homes may face the challenges of financing needed repairs or home rehabilitation projects necessary to keep the home inhabitable or on the market as affordable," says Jenna Thuening, owner of Home Destination. "Key exemptions exist under the new FHA mortgage limits; it is important that Minneapolis homebuyers understand FHA home loan opportunities and mortgage limits."
HousingWire offers a quick summary of the recent HUD Qualified Mortgage definition by saying "loans in the system must require periodic payments without risky features. In addition, they cannot have terms exceeding 30 years, must be insured by FHA or HUD and have to limit upfront points and fees to no more than 3% with some exceptions for certain types of loans". Home borrowers with loans complying to Title 1 manufactured housing and qualifying home improvement loans are granted exemption under the qualified mortgage definition.
"The rule designates loans insured under these programs as Safe Harbor Qualified Mortgages regardless of upfront points/fees and APR to APOR ratio so as not to interfere with current lending practices until appropriate parameters can be determined," HUD stated. Legally, lenders that offer FHA loans must determine that the borrower meets the Ability-to-Repay standard. That includes a homeowners ability to repay for any home improvement funds, too, if bundled into their home mortgage. Federal Housing Administration's (FHA) 203(k) Rehabilitation Mortgage Insurance, remains an important financial tool that enables Twin cities homebuyers to purchase and rehabilitate properties.
FHA Home Loan Restrictions for Rehabilitating Properties as currently listing by the Office of the Comptroller of the Currency :
1) FHA Loans Are Limited To Owner Occupied Homes - While 203(k) FHA home loans may be a great option for many Twin Cities homeowners, gaining one will encompass several restrictions. For example, 203(k) loans can be used for refinancing, not only to purchase a home, but are limited to owner occupants; Twin Cities property investors are not eligible.
2) Specifies Who Can Do The Home Improvement Work - Moreover, a licensed Minneapolis home building contractor must be used for the work, which has to begin within 30 days of closing and be complete within six months. Licensed home builders have to meet clearly laid out FHA qualifications, so homebuyers and owners should ask a contractors upfront if they have done 203(k) programs before. It will go much smoother for a home improvement loan when the contractor is familiar with the payment schedule and requirements.
3) Specified Amount For Home Improvements - The first type of FHA 203(k) loan is known as a Streamline 203(k) and is limited to repairs or home improvements that cost $30,000 or under. The second type of 203(k) loan which covers home improvements than run over $30,000. In this case the homeowner's loan requires a minimum of $5,000 to be spent on rehabilitation of the home. The total mortgage amount, including all repair costs, must fall within the FHA mortgage limit for the homeowner's local housing market. Use HUD's website for determining FHA loan limits per zip code, or view an overview per Minneapolis St. Paul county.
4) Only Certain Home Improvement Project Qualify For FHA Loans - No major structural repairs can be undertaken with a Streamline 203(k) such as putting on a new addition or fixing a cracked foundation. Most full 203(k) loans allow for home improvements as long as the applicant can document proof it will add value to the home.
"Examples of home rehabilitation projects that you may well qualify for FHA funding are: structural additions, finishing and updating a basement, a new roof, plumbing repairs or a green kitchen remodeling project," suggests Thuening.
Home Destination is a Twin Cities real estate agent selling residential homes in the Minneapolis - St. Paul metro area. To engage a seasoned local expert as guide for buying a Minneapolis home, call 612-206-2410.