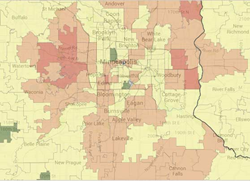 "Homeowners could leverage the home's value to either refinance or sell their home. But many may not realize they have it and in some cases have vacated the property already, assuming that their foreclosure is inevitable." ~ RealtyTrac
Minneapolis, Twin Cities, Minnesota (PRWEB) April 29, 2014
The Minneapolis median home asking price reflects that single-family home values have increased 9.2 percent in year-over-year comparisons, according to a report released today from the Department of Numbers. The increase in metro home values across the Twin Cities and offers certain advantages and spurs talk of rising taxes.
"While some residential neighborhoods are seeing more significant increases in home values than others, overall metro homeowners are gaining equity in their home", says Jenna Thuening, owner of Home Destination. "A home appraisal determines the value of your home on the average sale price of homes in your area or neighborhood. Neighborhood recently sold homes establish a selling price, which is divided by the square footage of the home, then used to value all other homes in the area."
INTERESTING FACTS ON MINNEAPOLIS METRO HOME VALUES FROM THE DEPARTMENT OF NUMBERS

The median asking price for homes in the Minneapolis area hit a high in June 2006 at $257,375
Home prices are now $8,975 or (3.5%) lower.
The median asking price rose $1,000 in a two week time span between April 14 and the 28th.
The median asking prices has increased 2.0 percent month-to-month.
If taken from the benchmark low of $174,950 in February 2011, the metro's median asking home price has improved by $73,450 or(42.0%).
If taken from January 2013 to January 2014, according to the Standard & Poor's/Case-Shiller Home Price Index released April 22, home values in the Twin Cities improved 12.1.
Home values in the Twin Cities metro improved 12.1 percent in January over the previous year, according to the Standard & Poor's/Case-Shiller Home Price Index released Tuesday. Average house prices for the 20 metro area composite rose 8.1 percent — the highest increase since the housing bubble burst in 2006. All 20 metro housing markets tracked by Case-Shiller show year-over-year improvements with Phoenix taking the lead at an increase of 23.2 percent.
The recent Gallup poll estimates 64% of Americans are homeowners. Out of the homeowners polled, "74% respondents say their home is now worth more than when they bought it, up from 63% last year and 53% in 2014". While still short of Gallup's numbers from 2006 and 2007, home values are proving to be many individuals' best investment.
The sharp increases in property tax statements that homeowners across the Twin Cities found in their mailboxes recently herald the end of an extraordinary change for home values in the Twin Cities. "The drops in recent years were so fast, and so far, that most of us in our lifetimes had never seen such a thing," said Herb Tousley, director of the Shenehon Center for Real Estate at the University of St. Thomas. "Now, though no one likes to pay more taxes, the house is going up in value and there's a good side to that."
"While the rise in Twin Cities home values is a sign of a strong housing market and is good news for taxing entities, it's a mixed bag for homeowners," adds Thuening. "Twin Cities homeowners should create a financial cushion since we don't' know when higher home values will translate into increases in homeowner tax payments. There are many variable that carry impact: some pushing home taxes higher and others keeping them at bay. However, one can reasonable predict that our current trend in home remodeling and home addition projects will strengthen home values further and eventually the taxes due."
Home Destination offers an extensive library of homeowner resources and is a Twin Cities residential real estate consultant serving the metro over 15 years. Dedicated to giving home buyers and sellers the best opportunity to make solid real estate decision, call 612-396-7832 and ask for Jenna Thuening.