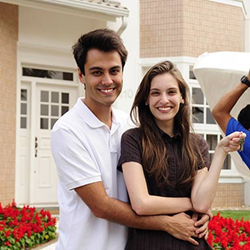 "When we surveyed Millennials they cited several barriers to homeownership, especially access to financing," ~ Steve Deggendorf, Fannie Mae Senior Director
Minneapolis, Twin Cities Minnesota (PRWEB) June 06, 2014
Minneapolis Millennials face financial constraints that blunt homeownership dreams along with the national averages. Buying a home is being delayed by Americans under the age of 35. Down from 42 percent in 2007, Millennials who own their own home hit a new low not seen since 1982. It's not for a lack of desire; 90% of prospective Millennial home buyers want to buy a home, yet find renting their only viable option, according to a recent housing survey from Fannie Mae titled What Younger Renters Want and the Financial Constraints They See.
"The Millennial home buyers that we are seeing in the Twin Cities are confident of their economic future and ability to afford the upkeep of owning a home," says Jenna Thuening, owner of Home Destination. "Their strong desire to own a home means that the present is a time to save, while some Minneapolis renters reluctantly postpone buying a home.
To come up with a definition, let's go with Pew Research's profile of a Millennial: "Now ranging in age from 18 to 33, they are relatively unattached to organized politics and religion, linked by social media, burdened by debt, distrustful of people, in no rush to marry— and optimistic about the future." Being the bulk of our future homebuyers, the Millennial generation is commanding the focal point of several real estate studies.
Prospective Millennial age homebuyers currently renting in the Minneapolis area find the costs of living affordable and good job opportunities to help reduce education debt. Compared to national averages, Minneapolis offers reasonable rental rates, inexpensive public transit, jobs whose starting salaries outpace loan debt, and great shopping choices for life's bare necessities.
Housing analysts glean from Fannie Mae's National Housing Survey that the majority of younger renters would prefer owning their own home both for a quality lifestyle and a financial investment. The buying timeline has simply been delayed among many in the younger millennial generation. Tighter credit from lenders creates a hurdle some cannot jump and gain the status of homeowners just now, as reported by CNN Money on June 1.
"When we surveyed Millennials, they cited several barriers to homeownership, especially access to financing. Mortgage lending is getting a little less tight, with lenders approving buyers with a little lower credit score and who have less of a downpayment," said Steve Deggendorf, a Fannie Mae senior director.
Hurdles Twin Cities Millennials Must Overcome to Buy a Home - a summary compiled by Home Destination
1. Many Millennials simply can't come up with the hefty 20% down payments.
2. Burdened with college debt.
3. Missing a history of established credit, many lack sufficient credit to qualify for loans.
4. Heightened need for geographical flexibility due to career moves.
5. Realistic that homeownership can fail due to witnessing the housing meltdown.
6. Have grown used to the convince of multigenerational living and opt to remain in their parent's home.
Millennials seem to have a buoyant perspective that even though they see a tough road to financing homeownership, they remain positive that they can obtain it some day according to Fannie Mae. "The vast majority still plan to own someday; about half plan to buy a home the next time they move. However, a smaller share than last year say that their primary reason for renting now is to prepare for homeownership."
"It is great to see that our younger generation believes the rewards of homeownership are well worth saving up for," adds Thuening. "I admire the discipline of Millennials who spend less on discretionary items in order to enjoy the pleasures of owning a home in the future."
Home Destination is a 15-year veteran residential Minneapolis Realtor who helps all ages of buyer through the adventure and challenges of buying a home. To gain a complementary Twin Cities home buyers consultation, call 612-396-7832.