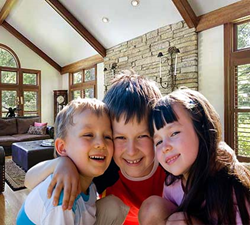 If you're looking to move your family to a city that is custom-made just for growing families, St. Paul/Minneapolis should be on your list." ~ Move to St. Paul/Minneapolis - A Top City For Families article by about.com
Twin Cities, Minneapolis Minnesota (PRWEB) July 03, 2014
When you care about raising children in a housing market that is family-friendly and with top notch schools, buying a home in Minneapolis, Minnesota in the Delano School District is the best choice. ZipRealty announced its second annual ranking of the 10 Best Places for Families to Live on July 1, 2014, placing Minneapolis on top.
"Previously commanding notice on other surveys, it is noted once again that families with children find Minneapolis the best place to live", says Jenna Thuening, owner of Home Destination. "When you are ready to buy a home, you will naturally consider a lot of reasons to move. It is great to see parents choosing to put their children's interest as a top priority when selecting a location."
ZipRealty, a leading online residential real estate brokerage and provider of technology and marketing solutions, gave prime attention to the "Top School Districts with the Most Affordable Housing" category. It ranks the highest-rated public school districts in 23 metros across the U.S. as well as the median price per square foot for homes in each respective district. To be considered, at least 10 home sales must have closed in that region's school district in 2013. Minneapolis came out on top, with the Charlotte metro coming in 2nd and Dallas, Texas 3rd.
Out of all the residential neighborhoods in the 13-county Twin Cities metropolitan area, buying a home in the Delano school district is the best place to live and raise a family, the report determines. The school district was awarded a top score of 9.2. The city was noted for its affordable homes at $101 per square foot. ZipRealty also takes into account what a city has to offer a family for learning, sports, adventure and family weekend outings. Local museums, zoos, history centers, and opportunities for cultural experiences dot their list of winning cities and seem to place metros in the top 10 rankings.
"There has always been a tradition of excellence in our public school system, which has been cultivated by a very supportive community," said Delano Public Schools Superintendent Matthew Schoen in a Yahoo News Report. "If you stopped a young couple in downtown Delano and asked them why they moved here, you would find that 99% of the couples would say they moved here for the school district."
The Minneapolis housing community has a strong tradition of being recognized as one of the best metros to live in. Through out Twin Cities residential communities home values, housing demographics and school ratings vary; ratings and the demand for value driven living is much about location. In this year's report, it states that Delano, home buyers can purchase a home of reasonable size that are ideal from households with children. Families who determine the location of their next home in part by priorities for their child's education can't find a better deal than buying a home in Delano, Minnesota.
"People continue to relocate to the Minneapolis-St. Paul area because of affordable housing prices, quality school systems, its many cultural activities, such as a booming music scene, and the burgeoning economic sector," said Lanny Baker, ZipRealty's CEO and President, in a statement one year ago when Minneapolis won the same ranking. The story was posted by the City Pages on May 24, 2013 and reflects the consistency of quality living in Minneapolis.
Additionally, the twin cities of 13 county area is regarded as one of the most are family-friendly places to live by Parenting Magazine. Ranking within the top five locations in the U.S. to raise a family, with lakes and parks abounding, living in Minneapolis metro means there is a lot of fun things to do together. Miles of walking trails and biking paths allow family to flourish right in their neighborhoods. The metro's school system at large is known for its students that rank second only to Boston in reading and math scores.
"While no one but you can determine the best location for you to buy a home and raise a family, leads like this may help point the way. You know your unique family make-up, needs, hobbies, passions and preferences in a home", adds Thuening. "Gleaning from other buyers experiences may serve to confirm the direction you are headed or help you choose your location."
Home Destination is a 15 year veteran residential Twin Cities Realtor who helps buyers and homeowners through the process of choosing the right home to buy. For a complementary Minneapolis real estate buyer's consultation, call 612-396-7832.