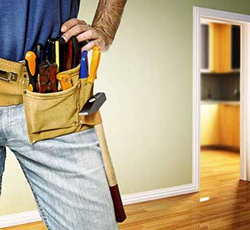 "The ongoing growth that we've seen in home prices, housing starts, and existing home sales is also being reflected in home improvement activity. Owners...(are) likely to undertake home improvements that they have deferred." ~ Eric S. Belsky, JCHS
Minneapolis, Minnesota (PRWEB) January 21, 2014
Minneapolis homeowners are investing in upgrading or remodeling their houses, according to the 2014 Hanley Wood Remodel Cost Vs Value Report released January 16, remodeling sales were up 10 percent nationally, and about a half of the surveyed remodelers agree all home remodel categories are up. Predictions are that 2014 Minneapolis home remodeling trends will continue to see this steady growth and offer homeowners clues as to which home remodeling projects will pay off in 2014.
"Minneapolis home remodel projects can entail a big decision making process for homeowners. One of the best ways to increase the value of your home is to keep the property up and mindful of current trends," says Jenna Thuening, owner of Home Destination. "Should something come up to prompt a move that you weren't necessarily planning, getting your home market ready won't be such a huge task if home remodeling projects are completed and keep a home's decor on par with want buyers want."
The Cost vs. Value Report by Remodeling Magazine is highly anticipated for its precise information on which West North Central, including Minneapolis, home remodeling projects, grant homeowners the best return-on-investment when remodeling. According to the study, the West North Central Region of the US bettered national averages, showing strong improvements in Twin Cites remodeling spending levels.
Listing the top home remodeling projects in Hanley Wood's 2014 Remodeling Cost Vs Value Report, Home Destination numbers them according to their highest return on value:
1) Wood Window Replacements - Wood window replacements average $12,396, with a resale running $9,694, ending up with a recouped value of 78.2 percent. Wood window replacement remodeling projects come in with the highest return value per cost for Minneapolis homeowners. While the cost of wooden replacement windows is significantly higher than vinyl, they will add proportionally to a home's resale value.
2) Wood Deck Addition - Therefore, adding a home deck can end up at a cost recouped of 76.2 percent. A home deck build offers Minneapolis homeowners the chance to enjoy outdoor entertaining more.
3) Home Basement Remodel - Job costs average $17,112 with a resale value of $8,983. The remodeling project has a recouped value of 75.4 percent.
4) Garage Door Replacement - Expect a garage door replacement project cost to be around $1,771, with a resale vale of $1,331, which is a recouped value of 75 percent.
5) Attic Bedroom Remodel - Job cost of a Minneapolis attic bedroom remodel averages $52,291 with a resale value of $44,398, which means the homeowner can anticipate a cost recouped of 74 percent.
6) Vinyl Window Replacements - Vinyl window replacements while having a low Cost Vs Value score than wooden ones, still rank very high as a top remodeling project were homeowners can anticipate recovering most of the cost. The average Minneapolis area vinyl window replacement project runs approximately 11,320, with a resale vale of $8,132, and a cost recouped at 71.8%.
Minneapolis home builders saw metro demand for new construction and home renovations up in 2013 - even higher than than national averages. According to the Census Bureau Beige Book released January 14, Minneapolis inventory of homes for sale increased by 3 percent, and the median sale price rose 10 percent, adding to home values that spur homeowners to feel more comfortable with moving forward with remodeling project. "The University of St. Thomas Minneapolis-St. Paul residential real estate report predicts a solid year in the housing market for 2014," states the report.
"Whether remodeling your home so that it stands out as different from any others, remodeling it to flip, or to prepare the home to become a rental investment property, you can make better informed choices by knowing upfront what you can expect to pay for the project, and what percentage you can expect to be recouped later," adds Thuening.
Home Destination helps Twin Cities home sellers prepare to list homes and offers resources to decipher what home remodeling projects are needed to meet buyer demands and bring about a great home sales experience. Call 612-396-7832 and ask to meet with Jenna Thuening.