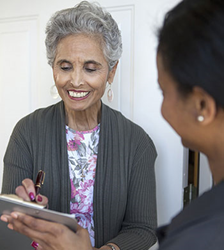 "The recovering real estate market continues to grow seniors' home equity, creating a valuable resource for them. Tapping into that equity is one option to help fund living expenses, home maintenance costs, or health care needs in retirement." ~ NRMLA
Minneapolis, Minnesota (PRWEB) October 24, 2013
The upward trend in Minneapolis home equity increases seen so far in 2013 are underscored in NRMLA/RiskSpan Reverse Mortgage Market Index (RMMI) recent report. For seniors living in single-family homes and hoping to use their home equity for retirement, the data is reassuring. Along with the national findings, Minneapolis senior homeowners, who have owned their homes for a lengthy time, are chief benefactors of the Minneapolis housing market improvements. With the RMMI report of senior home equity at a five year high, many are considering taking advantage of it.
"The Consumer Financial Protection Bureau (CFPB) has prepared advice and warnings for special home loans that Minneapolis seniors find accessible given their home equity gains. The CFPB published an explanation of reverse mortgages and added warnings on what seniors need to know before dipping into their home equity," says Jenna Thuening, owner of Home Destination. "Be sure and read it before signing any reverse mortgage papers; it may be wiser for you to downsize to a condo or apartment instead."
"With proper planning, seniors can use their home equity to pay off a forward mortgage and lower their monthly expenses, or they can use it for the financial flexibility needed to hold onto other assets during a down market," Peter Bell, president & CEO of the National Reverse Mortgage Lenders Association said in the NRMLA October 14th press release.
In the second quarter of 2013, the RMMI reached a record benchmark of (160.06) for the first time since the third quarter of 2008. After rising five consecutive quarters, the trend including the 3.1 percent growth in home equity recorded between the first and second quarter of this year is the RMMI's biggest quarterly leap upward since the end of 2008.
During the last two years, the aggregate home equity held by Americans 62 and older grew 12.5 percent to a total of $3.34 trillion. The $101 billion increase in senior home equity from the first to the second quarter of 2013 was driven by an estimated $98 billion increase in the aggregate value of housing owned by seniors, while their collective mortgage debt declined by $3.4 billion.
The total value of home equity release plans agreed in the third quarter of 2013 reached a five year high of £284.1m, The latest figures from The Equity Release Council were reported in an article titled "Value of equity release at five year high" posted on October 16, 2013 in the Mortgage Introducer. This represents a 14% year-on-year increase and a 15% jump from the previous quarter. The average amount released has also broken records, with each customer now releasing £57,107. This amount is the largest since quarterly records began in 2002, potentially sparked by the ever increasing cost of living, coupled with the dwindling saving pots of the over-55s.
The CFPB released a document with a clear explanation on reverse mortgages, covering both benefits and warnings. Here are the four questions senior homeowners should ask themselves if they are considering dipping into their home equity for financial help.
1) Are the borrowers the only people who live in the home?
2) Can I afford my living expenses, property taxes, and insurance?
3) Do I plan to remain in my home for a long time?
4) Can I wait until I am older?
"The positive chance in senior home equity is welcome news for everyone. It means that home values in general have gone up, which every homeowner benefits from," adds Thuening.The CFPB September 24th press release, titled Banks can help spot elder financial exploitation and abuse. "It seems like many Minneapolis senior homeowners have a growing awareness of how often they are seen as vulnerable elders. By keeping a watchful eye out, we can ensure that senior residents have the benefit of their home equity increases to fall back on if needed."
Home Destination, a Minneapolis Residential property expert and professional Realtor with RE/MAX Results, helps Twin Cities real estate buyers and sellers make well-informed housing decisions. Call 612-396-7832 and engage Jenna Thuening's professional guidance if considering a downsize to a condo or apartment in the metro area.