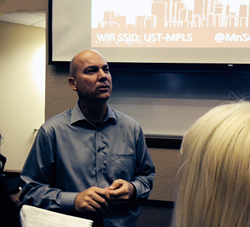 "When done right, content marketing is the rising tide that lifts the SEO ships." - Rand Fishkin, Moz
Twin Cities, Minneapolis Minnesota (PRWEB) June 30, 2014
Marketers gained answers and demonstrations of successes in online search, marketing, business reviews, Google Analytics, Adwords and more at the first ever MN Search Summit held June 27th at the University of St. Thomas in Minneapolis, MN. Attendees enjoyed a full day of gleaning up-to-date marketing strategies and insider insights from the industries' top experts in search engine optimization, social, and digital marketing.
"It was inspiring to personally meet individuals like Rand and Justin Cutroni from Google Analytics, to learn and laugh as they showed us the fun and skill of advancing businesses chances of being found and favored online," says Jeannie Hill, owner of Hill Web Creations. "Whether within the presentation or following Q&A sessions, I completed a day with at least one gem of advice from each speaker."
Punctuated with humor, Rand Fiskin, founder of Moz, gave an update on why content marketing fails. His five insights of what most Marketers do wrong, lead to what to do right in content marketing. While the information was in-depth and unraveled many marketing tangles, the following come from notes penned by Hill.
1. Failure to Build Trust - Marketers must set the right expectations with clients and the teams involved in executing the work.
2. Content with No Community Behind It - Make content with a community behind it that can share it.
3. Creating Content Without Sufficient Research - Use Channels that identify your audience and know who will share the information and why.
4. SEO is Content's Most Powerful Channel - SEO is also critical because of intent; social is more of a browse mode.
5. Expecting a Straight Line to Success – Marketers should plan for a long time in the learning and testing phase before experiencing success.
Lee Odden, the co-founder and CEO of TopRank Online Marketing urged search enthusiasts to be eternally curious; "to be the best answer" by offering content that answers buyers questions. Odden said that when it comes to digital marketing, "you can no longer be good at one thing or two; it's a ten thing world now."
Justin Cutroni, Analytics Evangelist for Google, offered listeners advice to re-target to a limited number of people, pivoting to users based on their behavior. "Re-implement, find high value users; digital is almost everything now as systems are talking to each other all the time," he instructed. After adding the latest features, Google not only presents a way to break out branded campaigns from non-branded campaigns within Google Analytics, but also paid and unpaid.
Additional speakers at MN Search Summit 2014 included: Arnie Kuenn - CEO of Vertical Measures, Marty Weintraub - Founder & Evangelist of aimClear®, Arnie Kuenn - CEO of Vertical Measures, Oli Gardner - Co-Founder & Creative Director of Unbounce, Larry Kim founder WordStream and more.
As different search engines have their own unique algorithm and search capabilities, SEO techniques vary and adapt as search becomes more personalized. In summary, the golden rule of thumb for a long term strategy is quality, unique content that is written for a better user experience and offered to readers at the right time on as many channels as possible.
MN Search event leaders did an amazing job of inviting and securing search marketing industry experts and bringing them to the Twin Cities. "I will be marking my calendar to attend this conference next year as soon as the date in announced," adds Hill. "Both economical in cost and an easy commute being right in the center of the Minneapolis marketing buzz, it was a great mix of strategy and new relationships to make search more exciting than ever."
Hill Web Creations has been providing marketing services in the Twin Cities since 2008. To advance online visibility through optimized web content created to serve viewer needs, call Jeannie Hill at 651-206-2410. Or send questions and suggestions to jeannie(at)hillwebcreations(dot)com.