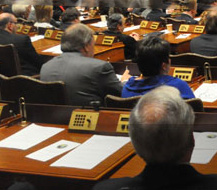 "As our members, our friends and neighbors, and prospective homeowners gather to discuss this year's election, these are the issues we hear about the most. Give people straight answers on the (housing) issues raised." ~ BATC
Minneapolis, MN (PRWEB) September 15, 2014
As the election for a Minnesota governor approaches, many are asking key questions about housing and homeowner's property tax relief that could impact the future of real estate in the metro. The Minneapolis Housing First Fund releases its first advertisements about the upcoming governor's and Minnesota house races, and stirs up some pretty frank concerns from Minneapolis homeowners looking for true housing champions.
"Home builders and residential investors in the Minneapolis metro recognize that the next governor's views on housing will influence the real estate market," says Jenna Thuening, owner of Home Destination. "The Twin Cities rental income market is becoming a business trend for those with the financing and know-how to make it work. Many find it an ideal way to build up cash flow because the tenants are actually paying the home mortgage."
Conforming to the housing market's strict credit conditions, some prospective Minneapolis homebuyers have to postpone buying a home, and the outcome is an upsurge of rental market demand. For Minneapolis – St. Paul metro residents who seek to establish home equity wealth portfolios, the added costs of increasing property taxes and new rules demanding the install of home sprinkler systems impact an investor's ability to create revenue.
Housing First has researched the voting track of candidates for the Minnesota House of Representatives, paying special attention to real estate issues. The outcome is a list of candidates they support.
Builders Association of the Twin Cities List of Suggested Minneapolis Governor Candidates

Roz Peterson (56B)
Ryan Rutzick (44B)
Kirk Stensrud (48A)
Stacey Stout (43A)
Andrea Todd-Harlin (51A)
"Each of these candidates is a true Housing Champion -- committed to keeping the price of homes affordable in Minnesota," said Builders Association of the Twin Cities President Shawn Nelson, a member of the Housing First Fund Board. "The housing industry, which makes up 15 percent of the Gross Domestic Product (GDP), is a critical part of any state's economic health, and we are ready to help Minnesota continue an economic expansion if we can avoid unneeded regulations."
The 2014 Minneapolis political campaigns are slow at starting this year, as some candidates seek debates and others seem to spurn them. Gov. Mark Dayton has an eight to nine-point lead in recent polls, according to KSTP's Sept 8th article titled 2014 Political Campaigns and Minn. Governor's Race. U.S. Sen. Al Franken and Republican challenger Mike McFadden are suggesting October debates that would give Minneapolis residents a chance to learn more from each candidate on their housing views.
The Builders Association of the Twin Cities (BATC) is taking a strong lead by creating Digital Ads that powerfully speak to the points of concern held by some Minneapolis residents. The backbone of BATC's message released on September 12 is "put housing first". Future ads are likely to be a reach for candidates in the upcoming 5 house races to state their housing views more clearly.
One ad put out by BATC asks Governor Dayton, "Why did you ignore the wishes of Minnesota families forcing us to pay another $10,000 to install sprinklers when we buy a new home?" Another commentator states, "(Homeowner property) taxes are higher, our health insurance costs more, and our new homes will have expensive sprinkler systems we don't need." While each candidate is positioned as a housing champion, the decisions politicians make often disagree with homeowners who feel the effects under their own roof or the properties they own.
"Keeping the costs of owning a Minneapolis home at an affordable rate will benefit both primary homeowners and the city's ability to draw real estate investors," comments Thuening.
About Home Destination - Twin Cities Real Estate:
Home Destination offers a loyal and committed real estate professional service that personally handles all the details of selling or purchasing a Twin Cities home. Highly regarded by peers as a Minneapolis metro expert for over 15 years, gain a skilled representative as guide to make the best possible housing decisions. Helping residents who live in the Twin Cities stay apprised on key real estate topics, Jenna Thuening offers the real estate resources, current news, and the local experience both buyers and sellers benefit from.
Contact:
Jenna Thuening
Web. http://www.homedestination.com
Email. jenna(at)homedestination(dot)com
Tel. 612-396-7832