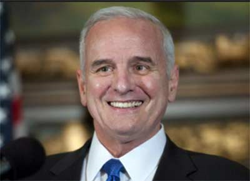 "The $508 million tax cut signed into law today will put more money in the pockets of middle class families, individuals, and thousands of businesses across Minnesota." ~ Minnesota Governor Dayton's Office
Twin Cities, Minnesota (PRWEB) March 26, 2014
Friday March 21, 2014, Governor Mark Dayton signed Minnesota law tax relief legislation that gives Minnesota homeowners' retroactive conformity with the Mortgage Debt Relief Act. The act was a federal measure permitting taxpayers to exclude from income the discharge of debt on their principal home.
"For individuals who are still in the process of completing their tax returns, there is time to incorporate the new benefits. Today's meeting offered details that clarified the new Minnesota tax credits and deductions so homeowners can see the difference when they write out tax payments and balance their financial statements," says Jenna Thuening, owner of Home Destination. The new law did not change the income tax deadline. It's still April 15.
The bill passed with overwhelming support in both chambers of the legislature on Friday; the strong support was more than some legislators had expected. "These tax cuts will put more money in the pockets of Minnesota families and businesses, and in the spirit of the 'Unsession,' make taxes simpler for Minnesotans," Governor Dayton stated.
HOW HOMEOWNERS IN THE TWIN CITIES BENEFIT FROM NEW MINNESOTA TAX RELIEF
Minnesotans who have recently bought or sold their homes will benefit from provisions included in the tax plan. Quoted directly from the Fact Sheet, homeowner benefits include:

Another 96,000 households earning less than $110,000 per year will be able to deduct the cost of their mortgage insurance.
Homeowners struggling to recover from the housing crisis will not have to pay income tax on "shadow income" because of foreclosures or canceled debts.
Conformity provisions include an itemized deduction for mortgage insurance premiums.
Adjustments to the estate tax by removing language allowing an exclusion for qualified small business and farm property.
According to MyFoxTwinCities.com, "Department of Revenue officials say eligible taxpayers who have already filed returns may get automatic checks while others will need to file amended forms." The bill has numerous effective dates, however many of the conformity provisions are retroactive beginning after Dec. 31, 2012. Conformity with the Mortgage Debt Relief Act provides homeowners with cancellation of debt and huge tax relief. It amends the Internal Revenue Code to extend the exclusion from gross income of income attributable to the discharge of indebtedness on a principal residence.
Revenue Commissioner Myron Frans assured Minnesota residents that dedicated staff worked after hours through the weekend, placing a priority on offering the guidance residents need to complete their tax filings. "This is a pretty complex task. This is not something you normally want to do this late in the filing season," she commented.
News released yesterday late afternoon by the Minnesota House of Representatives states that Minnesotans will pay $57 million less in 2013 taxes because of the tax-relief measure. By next year, when the provisions are fully phased in, nearly 1.2 million Minnesotans will pay fewer taxes. Starting in tax year 2014, more than 650,000 married couples will save an average of $115 because of the new state tax break.
Home Destination has helped hundreds of individuals buy and sell real estate in Minneapolis-St. Paul (Twin Cities) MN. Contact Jenna Thuening at 612-396-7832 to craft plans that maximize opportunities to buy or sell a Twin Cities home in 2014.