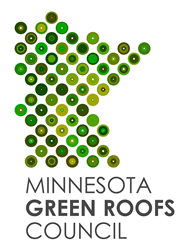 Green roofs provide economic advantages for building owners as well as environmental benefits for regional watersheds
Minneapolis (PRWEB) December 30, 2014
The Minnesota Green Roofs Council (MGRC), a not-for-profit organization dedicated to advancing green roofs in Minnesota, announced the election of John Hink to its board of directors. Hink is president and chief executive officer of Solution Blue (St. Paul, Minn.), a full-service civil engineering and landscape architecture firm specializing in sustainable site design and development.
"John shares our commitment to promoting green roofs to protect the quality of our state's waterways," said Kevin J. Slattery, vice president of architectural sales, Edwards Sales (Chaska, Minn.) and president of the Minnesota Green Roofs Council. "As an environmental engineer, he is dedicated to increasing water conservation and improving water quality."
"I have worked on the design and installation of numerous green roofs in the Twin Cities," said Hink. "Green roofs provide economic advantages for building owners as well as environmental benefits for regional watersheds."
Solution Blue provides sustainable civil engineering, site planning, landscape architecture, water resources management, and other environmental services for public and private sector clients. Hink's work is focused on solutions, such as green roofs, to effectively manage and re-use water resources.
A green roof is a supplemental system that covers a structural roof with a layer of vegetation. Green roofs reduce stormwater runoff, filter out water and air pollutants, moderate the urban heat-island effect, add green space to the built environment, shade and insulate rooftops to improve buildings' thermal performance (thereby reducing energy use and costs), and extend the service life of structural roof systems.
About the Minnesota Green Roofs Council (MGRC)
Founded in 2006, the Minnesota Green Roofs Council (MGRC) is a 501(c)3 not-for-profit organization that promotes green roofs as a building strategy in Minnesota. The MGRC supports statewide and local initiatives to make accurate information about green roofs available to all Minnesotans, including the public and leaders in government and the private sector. By building awareness of the environmental issues that green roofs address and the multiple benefits they provide, the Council advocates for supportive policies that encourage the installation of green roofs. More information is available online at http://www.mngreenroofs.org and http://www.facebook.com/MinnesotaGreenRoofsCouncil.
— end—
Media Contact:
David Aquilina
Strategic Storyteller
612-716-5628
davida(at)strategicstoryteller(dot)com