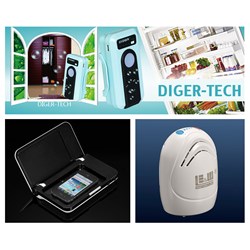 Shenzhen, Guangdong (PRWEB) September 23, 2013
According to experts, indoor pollution is 2-5 times more dangerous than outdoor pollution. Poor air circulation allows allergens, bacteria, and viruses to easily cause illnesses and disease. Introducing Minsheng Technology Co., Ltd, the leading producer of custom air purifiers for everyday life. Willi Guo, Developer, states, "Only purifiers that meet industry standards and are given a seal of approval are put on the market. With over 10 years of advanced professional testing, we offer customers only the finest products."
Most people touch their cell phone hundreds of times a day. Germs are constantly hiding in the crevices of phones. Perfect for the tech savvy cell phone users, The Cell Phone Sterilizer destroys 99.9% of organisms found on cell phones. It takes only two seconds to start the sterilization process. Slide the phone into the light-weight sterilizer and press the button. The stylish and portable design also allows for quick on-the-go sterilization.
Caption: The Cell Phone Sterilizer destroys 99.9% of all germs found on cell phones.
Inside cars where the air is stale due to little to no air circulation causes a multitude of health risks. Without an air filter, people are susceptible to illnesses, diseases, and allergies. Introducing the Automobile Air Filter, it removes allergens, bacteria and viruses from inside the car while promoting better air circulation. Intensive testing shows that germs are removed up to 99.9% while the innovative design allows users to put The Automobile Air Filter in any small spaces.
Caption: The Automobile Air Filter lets users breathe in fresh air in automobiles while destroying up to 99.9% of air-borne germs.
Minsheng Technology Co., Ltd is the leading designer for refrigerator filters worldwide. Mold, dust and other disease causing organisms decompose food inside refrigerators. When humans consume such food, they are susceptible to serious health risks. The Refrigerator Purifier destroys 99.9% of microorganisms on contact and keeps food safe. Each product has undergone years of advanced testing to insure that the quality meets industry standards. The design allows for full sterilization of each crevice inside a refrigerator while slowing the decomposition of foods.
Caption: The Refrigerator Filter is the next generation of advanced filtering technology to keep foods safe and filters out over 99.9% of harmful substances.
Minsheng Technology Co., Ltd is a global leader in the production of affordable high quality purifiers for consumer use. Each purifier is extensively tested to ensure high performance and quality. Visit http://www.diger-tech.com/en for more information.