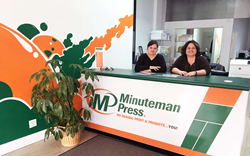 We chose Astoria because this is our home and we know that there are so many great people and businesses here that can benefit from our products and services.
ASTORIA, Queens, N.Y. (PRWEB) April 04, 2017
There is a brand new full-service design, print, and marketing business in town, as Minuteman Press is proud to announce its grand opening in Astoria, NY. "We chose Astoria because this is our home and we know that there are so many great people and businesses here that can benefit from our products and services," says Minuteman Press owner and Astoria native Linda Pomponio. She runs the business with her sister Tracey Pomponio-Lasko.
Located at 31-16 36th Avenue just a few steps from the N train subway stop, Minuteman Press of Astoria is now open for business. In addition to offering essential printing products that businesses need and use in their daily operations, Linda and her team are able to provide customized marketing and branding solutions that are tailored to meet the needs of any business. Because of their professional design and sales backgrounds, Linda and Tracey are able to leverage their experiences and develop effective marketing campaigns and strategies for her clients. Linda says, "I love being able to bring other people's ideas and visions to life through design, printing, and promotions. It is rewarding to offer them guidance every step of the way from design to delivery and everything in between."
Meet Astoria Natives Linda Pomponio and Tracey Pomponio-Lasko
Linda Pomponio has an extensive graphic design and business background that is a real benefit to her customers in Astoria. She cut her teeth in production working for the National Football League and then developed her graphic design and business management skills as a Senior Designer with Major League Baseball. Most recently, Linda spent ten years perfecting her skills as Senior Designer and Art Director for the National Hockey League, where she designed and developed dynamic graphics for NHL live events, websites, advertising, corporate initiatives and green causes. Linda says, "With all of my experiences that I've had meeting and working with talented marketers, designers, writers, digital and print production staff, I felt I could take those skills and apply them to this business. Tracey and I are truly excited to meet with business owners right here in Astoria and help them in any way we can."
Tracey Pomponio-Lasko previously worked in sales and consulting and is able to offer valuable advice to local area business owners looking to grow. She has worked with top executives across various industries such as engineering, publishing, cosmetics, and fashion. Tracey is highly skilled at event planning, advertising, customer service, and support. She says, "Together, Linda and I are excited to say hello to the Astoria business community. Our professional backgrounds combined with the Minuteman Press brand is a real powerful combination that can deliver effective results for our customers."
As Tracey mentioned, one thing that really sets Minuteman Press of Astoria apart is the high levels of quality and customer service that they are able to provide as part of the Minuteman Press brand. Minuteman Press has been a printing and marketing industry leader for over 40 years and is ranked #1 by Entrepreneur in the Marketing and Printing Services category in 2017 for the 25th time. Linda says, "Minuteman Press is highly regarded around the world, and we are thrilled to bring their brand of legendary customer service to our clients right here in Astoria."
Minuteman Press of Astoria is welcoming new clients! Linda and Tracey would like to invite business owners and community members to contact them for a free consultation on how they can help your business. Stop in to see them at 31-16 36th Avenue, call 718-433-0101, or visit their website for more information.
About Minuteman Press of Astoria
Minuteman Press of Astoria's customer service driven business model provides digital print, design and promotional products and services to businesses from concept review through to completion. We can produce anything you can put a name, image or logo on, from marketing materials and mailings to promotional products and branded apparel. Our slogan – We Design, Print & Promote… YOU! – indicates the wide variety of products and services we offer that helps other businesses grow.
Minuteman Press of Astoria is family owned and operated by Astoria natives Linda Pomponio and Tracey Pomponio-Lasko, who are dedicated to provide their hometown with superior quality printing and promotional products, all of which are produced with the legendary customer service that has been synonymous with the Minuteman Press brand for over 40 years. Linda and Tracey are proud to be a part of this fabled artistic enclave of Queens that has been the home of Christopher Walken, the Steinway & Sons Piano Factory, Kaufman Astoria and Silvercup Film Studios.
For more information about our products and services or for a free consultation, come see us at 31-16 36th Avenue, call 718-433-0101 or visit our website: http://www.astoria20-ny.minutemanpress.com