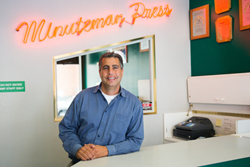 Pick a strong and solid franchise that has a great reputation like Minuteman Press. Then, follow the game plan.
WASHINGTON (PRWEB) July 12, 2017
Franchise Business Review, an independent franchisee satisfaction research firm, has named Minuteman Press franchise owner Mark Calis to its Rockstar Franchisees of 2017 list. According to Franchise Business Review, Mark was one of only 41 successful franchise owners (out of 30,000 possible franchisees) selected for this list, which represents "the diverse business-building opportunities franchising offers to entrepreneurs no matter what their backgrounds and interests are." On their franchisee selection methodology page, Franchise Business Review states, "The franchisees who were selected exemplify a combination of financial success and professional satisfaction."
Who is Mark Calis?
Mark Calis owns a Minuteman Press design, printing, and marketing franchise located at 555 New Jersey Avenue, NW in Washington, D.C. Mark's family has owned the business for 31 years, first opening their doors in 1986. Mark is a second-generation franchisee, something that is not uncommon with Minuteman Press International as many owners decide to involve their families in the business. Minuteman Press has over 100 second-generation owners in their system, and Mark is one such owner who has successfully taken the reigns from his parents and continues to build the business.
Simply put, Mark Calis is an exemplary franchise owner. He and his family have successfully built their business over three decades. Mark is an active participant at Minuteman Press regional meetings and is always willing to share his advice and experiences with other owners. Additionally, Mark has also participated on the Minuteman Press President's Discussion Panel that takes place at the Company's World Expo. The World Expo includes speakers, seminars from industry leaders, a full vendor show, the President's Panel, and a Gala Awards Dinner. Specifically, the President's Panel is a rotating panel of franchise owners that participates in a Q and A session with owners throughout the Minuteman Press franchise system who are in attendance. Mark's contributions to this panel were very much appreciated.
Bob Heimbuch, Minuteman Press International Regional Vice President for DC/MD/VA/WV, adds, "Mark Calis is a real team player for the Minuteman Press franchise family. He follows the system, leads by example, provides excellent service, and is a terrific representation of a successful Minuteman Press franchisee."
Who Makes Up an Exceptional Minuteman Press Franchisee?
Because Minuteman Press has been franchising for over 40 years, they have had the privilege of putting so many great people into business. Minuteman Press franchisees come from all different walks of life and have different personality types, but they also do have certain similarities. They are alert to the needs of the business community; they have passion for helping other business owners grow; they provide excellent quality and service; they treat their employees the right way; and most importantly, they have a very strong work ethic and take pride in their business.
Minuteman Press is also proud to have over 100 second-generation franchise owners that are part of their franchise family, meaning that businesses have been passed down from original owners to their sons and daughters and are in great hands for the future.
Getting into Business and Advice for Others
Why Minuteman Press? Mark Calis answers, "We were looking to work in our own business, but did not know where to start. We ended up going to a franchise show where we met the folks at Minuteman Press International. They had the most impressive presentation, the best training program, and the most comprehensive support we saw for an affordable franchise. So, we went in that direction and boom – 31 years later, here we are!"
Mark continues, "There are a lot of things to be proud about, but mostly being a longtime owner that is constantly growing and improving what we do. We are always striving to have the best customer service and client relations in the business. It's always fun to watch a customer's reaction after we have taken their idea from design and concept to completion."
When asked about advice he would have for other aspiring franchise owners, Mark Calis says, "My advice would be to pick a strong and solid franchise that has a great reputation like Minuteman Press. Then, follow the game plan and path that they direct you on as there is a reason why they have existed for so long and have created such a successful business model."
View Mark Calis' Rockstar Franchisee listing on Franchise Business Review here.
Click here to access Minuteman Press International's Franchisee Satisfaction Report conducted by Franchise Business Review.
About Minuteman Press International
Minuteman Press International is a number one rated business marketing and printing franchise that offers world class training and unparalleled ongoing local support. Started in 1973 by Roy Titus and his son Bob, Minuteman Press began franchising in 1975 and has grown to over 950 business service franchise locations worldwide including the U.S., Australia, Canada, South Africa, and the United Kingdom. Minuteman Press is ranked #1 in category by Entrepreneur 25 times and 14 years in a row, including 2017. Franchise Business Review has also named Minuteman Press International to its 2017 Top Franchises and 2017 Top B2B Franchises lists thanks to positive feedback and reviews from owners.
At Minuteman Press, we are the modern printing industry, providing high quality products and services that meet the needs of today's business professionals and go way beyond ink on paper. Today, our centers offer innovative branding solutions and produce custom designs, promotional products, branded apparel, direct mail marketing, large format printing (banners and posters), signs and graphics, and much more. Prior experience is not necessary to own and operate a successful Minuteman Press franchise.
To learn about Minuteman Press franchise opportunities and access Minuteman Press franchise reviews, visit http://www.minutemanpressfranchise.com or call 1-800-645-3006 for more information.