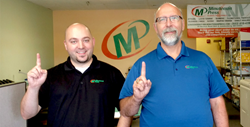 Bob Bean has worked hard to serve the Londonderry community and has followed the Minuteman Press franchise system. We appreciate his efforts and are proud to support his business in the years to come.
LONDONDERRY, N.H. (PRWEB) September 28, 2016
The Minuteman Press franchise in Londonderry, New Hampshire is celebrating one year in business. Located at 44 Nashua Road, Bob Bean's Minuteman Press offers design, printing, and marketing products and services to today's business professionals.
Over the past year, Minuteman Press has filled a void that was in the Derry and Londonderry areas, serving these communities by providing outstanding quality and customer services while meeting the printing and marketing needs of their clients. Minuteman Press has worked with businesses, non-profits and individuals to be that resource to find the right solution at the right price. Being a family owned and operated business that cares about the clients they serve, Minuteman Press is proud of the fact that so many customers have turned to Minuteman Press for their printing needs, and that they have then returned while referring others to the business as well.
"I'd like to thank all of our customers and friends that have helped us during our first year of business, said Bob Bean, owner, Minuteman Press of Londonderry. "I would also like to thank the Greater Derry Londonderry Chamber of Commerce and the Tri-County BNI Chapter for all of the help they have given over the past year with getting to know the community and the other local businesses." Bob concludes, "My belief is that we have to give great customer service to our customers, and we will continue to do that in the years to come."
Minuteman Press has been in the printing industry since the early 1970s and has over 930 design, print, and marketing centers worldwide. With the support provided by the Minuteman Press franchise team, they are able to provide a wide variety of design, printing, and marketing solutions to their customers.
"Congratulations to Bob Bean and his team for achieving one year in business," said Ron Rubin, Minuteman Press International Regional Vice President, New England. Ron adds, "Bob has worked hard to serve the Londonderry community and has followed the Minuteman Press franchise system. We appreciate his efforts and are proud to support his business in the years to come."
Bob Bean's Minuteman Press design, marketing and printing franchise is located at 44 Nashua Road, Londonderry, NH 03053. For more information, call Bob and his team at 603-818-4390 or visit their website: http://www.londonderry-nh.minutemanpress.com
About Minuteman Press
Serving the business community for over 40 years, Minuteman Press' customer service driven business model provides digital print, design and promotional products and services to businesses from concept review through to completion. Today we are much more than just print; anything you can put a name, image or logo on, we can produce. Our slogan – We Design, Print & Promote… YOU! – indicates the wide variety of products and services we offer that go beyond printing. For more information about our products and services or to find your local Minuteman Press, visit http://www.minutemanpress.com.
About Minuteman Press International
Minuteman Press International is a number one rated business service franchise that offers world class training and unparalleled ongoing local support. Started in 1973 by Roy Titus and his son Bob, Minuteman Press began franchising in 1975 and has grown to over 930 locations worldwide including the U.S., Australia, Canada, South Africa, and the United Kingdom. Minuteman Press is rated #1 in category by Entrepreneur for 12 years in a row and 24 times overall, including 2016. We are the modern version of the printing industry, providing high quality products and services for businesses that go way beyond just ink on paper. Today our stores produce promotional products, custom apparel, large format printing (banners and posters), signs, and much more. Prior experience is not necessary to own and operate a successful Minuteman Press franchise. Learn more about Minuteman Press franchise opportunities and access Minuteman Press franchise reviews at http://www.minutemanpressfranchise.com.