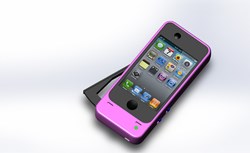 We're giving early adopters on Kickstarter the chance to support our campaign and purchase the Mipwr Dynamo for just $25.
Chicago, IL (PRWEB) October 03, 2013
The team behind Mipwr Dynamo is helping iPhone 5/5S users avoid that gut-wrenching feeling of a dead cell phone battery. Whether users simply forget to charge their phones, or find themselves in an emergency situation, Mipwr Dynamo offers a solution to the problem; in the event that the cell phone battery and Mipwr's backup battery are exhausted, users can easily pump the push lever to manufacture electricity and charge their mobile battery on the spot.
Mipwr Dynamo is not the first mobile charger that uses electromagnetic induction to create electricity, but the other solutions to a dead battery usually involve tiny hand cranks that lead to hand cramps or large hand cranks that are just too bulky. Mipwr's push lever is concealed within the case, and can be released by flipping a switch. For every one minute of actuating the push lever within the case, users will produce enough power for 30 seconds of talk time or text.
"We're giving early adopters on Kickstarter the chance to support our campaign and purchase the Mipwr Dynamo for just $25," says Mipwr Dyanmo co-founder Karl Lee. "No matter what emergency situation is thrown someone's way, the Mipwr Dynamo will save the day. Not only does the device have an extra external battery that provides two hours of talk time, but it offers an unlimited supply of power within the user's fingertips."
Currently, the final design of Mipwr Dynamo is complete; the electronic parts are specified and the molds for the case have been designed. Lee and his partner, Bob Panos, have taken their working prototype through rounds of testing and the only thing standing in their way is funding the project. In order for Lee and Panos to cover Mipwr Dynamo's manufacturing costs, they are looking to crowdfund $78,000 on Kickstarter with the help of supporters and early adopters. Within the next two weeks, the fate of Mipwr Dynamo will be determined by the masses.
Those who want to support the campaign can order Mipwr Dynamo on Kickstarter for just $25, but when the reward level sells out, the price will increase to $35, $45 and, eventually, $50.
To learn more about Mipwr, or order one today, visit http://bit.ly/mipwrKS. Also be sure to Like Mipwr on Facebook and Follow Mipwr on Twitter to stay up to date with the campaign, and learn about new announcements, contests and rewards.
About Mipwr
Mipwr is made up of individuals who have spent their entire careers in product development, and have brought thoughtful ideas to mass production, culminating with sales in big box retailers such as WalMart and Sam's Clubs all over the U.S. The team strives to make innovative and affordable products that people cannot do without. To learn more about Mipwr, visit http://www.mipwr.com.