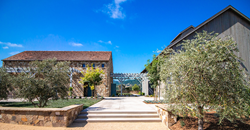 The pursuit of perfection drives all our decisions
NAPA, Calif. (PRWEB) August 21, 2019
Mira Winery, which produces a limited amount of hand crafted, all-natural wines, each a singular expression of unique grapes, has opened its new Winery and Hospitality House located at 6170 Washington Street just south of the town of Yountville. After making wine for 10 years under the Mira label in custom crush facilities, the opening of the new property allows Mira co-founders Jim "Bear" Dyke, Jr. and Gustavo A. Gonzalez to now realize the full scope of their longstanding vision for the ideal Napa Valley winery.
With an 89-ton capacity the winery suits all of Mira's current needs and allows room for growth should more exceptional grapes become available to the winemaking team. The adjacent climate-controlled barrel room will house Mira's extensive barrel program comprised entirely of French oak in an array of styles from multiple cooperages. The highlight of the production side of the winery is Mira's collection of 5-ton French oak fermentation tanks, the first of their kind in the United States, which serve as the starting point for each vintage of the winery's flagship Cabernet Sauvignon Schweizer Vineyard.
The latest technology is integrated every step of the winery's production, giving Mira Winemaker Gustavo A. Gonzalez an unprecedented level of control over each wine's development. "All the tools and innovations we'd talked about for years, we've been able to incorporate it all into our new equipment," says Gonzalez. "To pursue our craft in this winery, working with exceptional grapes and such an incredible partner, it really is a dream come true."
The winery's exterior is clad in a reclaimed wood siding that blends seamlessly into the Napa Valley scenery. A wood pergola connects the winery building to the hospitality house and a matching structure on the far side shades a patio that looks across vineyards and olive trees towards the Stags Leap Palisades.
"The pursuit of perfection drives all our decisions on the winemaking side, but what gives that pursuit meaning is our ability to share those wines with people who truly enjoy them," says Mira Proprietor Jim "Bear" Dyke, Jr. "From the very start Mira has always been about experiencing these wines and we couldn't ask for a more beautiful setting to be able to offer guests our hospitality."
The hospitality house has been painstakingly covered with native stone, giving the appearance of a building that has stood on the property for decades and would have been at home during the time of George C. Yount. Inside a serene space with a soaring ceiling and multiple views of the Mira estate offers the perfect environment to relax and appreciate Mira wines. A collection of books on the high library-style shelves represent the diverse backgrounds and experience of Mira's co-founders while a preserved 100-year old Cabernet Sauvignon vine is a reminder of the tremendous Napa Valley heritage of which Mira has become a part.
With the winery and hospitality house now open Mira will offer a tasting experience by appointment only at 10:30am or 1:00pm daily priced at $100 per person. Tastings feature the single-vineyard, single-varietal wines that define Mira. Guests will learn firsthand about Mira's pure winemaking approach, explore the unique features of the new bespoke winery, and gain an in-depth understanding of the one-of-a-kind vineyards that are the starting point of Mira's pursuit of perfection. Tasting reservations can be requested through the Mira website or by calling (888) 819-4668.
The "Miracle" of Mira
In 2009 entrepreneur Jim "Bear" Dyke and winemaker Gustavo A. Gonzalez launched Mira Winery and began to produce limited production single vineyard 100% varietal wines that are interesting, balanced, and a true reflection of their place, varietal, and season. Mira is the Latin root of miracle.
Mira captured the attention of the world when they experimented with the ocean-aging of wine followed by a dominant performance against some of the world's most highly regarded wines at a tasting commemorating the Judgement of Paris.
Mira's new winery and hospitality house are located at 6170 Washington Street and tastings are available by appointment. For more information on Mira, please visit our website http://www.miranapa.com or follow us on Instagram and Facebook.