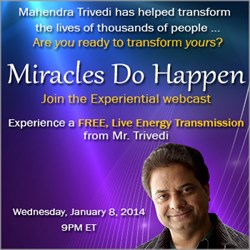 (PRWEB) January 06, 2014
Trivedi Master Wellness™ is going to organize a free live experiential webcast called 'Miracles Do Happen' on January 8, 2014 at 9PM ET.
This webcast is offering people to:
1. Learn about various astonishing results of the experiments that have been performed to study The Trivedi Effect.
2. Learn about the magnificent effects it has made in the lives of thousands of people who have received the Energy Transmissions
3. Discover how they can directly benefit in all aspects of your life through Trivedi Master Wellness™ programs.
4. Receive a live Divine Energy Transmission directly from Mahendra Trivedi, allowing them to immediately start experiencing the miraculous impact of The Trivedi Effect® in their lives.
The Trivedi Effect® is an amazing phenomenon which has been reported to bring incredible transformations in living as well as non-living organisms thereby enhancing their overall performance and potential so that they can perform at a higher level in all areas of their lives. This effect is experienced through the energy transmissions by Mahendra Trivedi and the three Trivedi Masters, Dahryn Trivedi, Gopal Nayak and Alice Branton.
More than 200,000 people have experienced the Trivedi Effect and have reported that it has brought remarkable transformations and improvements in the physical, mental, emotional, sexual, social and even financial well-being of their lives. Many people have reported significant reduction in their stress levels, fatigue, and anxiety. They have claimed to have felt relief from chronic pains, manic depression, mood disorders, bipolar disorder, mental restlessness, low confidence, confusion, mental fogginess, emotional trauma, sleep disorder, sexual dysfunction, tiredness, and relationship problems in their lives.
To test the abilities of The Trivedi Effect® and to prove its potential to bring transformational changes in organisms and materials, it has been tested and studied by eminent scientists from some of the top research institutes of the world. The results of over 4000 experiments have proven the fact that the changes are not the result of a placebo effect. The experiments, many of which are published in peer-reviewed, international, scientific journals, show mind-blowing results that do not conform to current scientific facts and understanding and this has astounded the scientific community.
The results showed that The Trivedi Effect® has increased the yield of crops by up to 500%, strengthened the immunity of plants and trees by up to 600%, converted cancer cells to non-cancerous cells, reduced the presence of HIV by over 96% in laboratory tests, improved the health and productivity of farm animals and even changed the size, shape and mass of the atom.
Participants of the "Miracles do happen" webcast will learn about the cumulative benefits of the Trivedi Effect® and hear about upcoming Trivedi Master Wellness™ programs in which they can receive Energy Transmissions throughout 2014. They will receive a free live Energy Transmission directly from Mahendra Trivedi and will as a result start experiencing the results of the Trivedi Effect® in their own lives and will be able to gradually discover the wonders that The Trivedi Effect® can bring to them.
To find out more about the Trivedi Effect® or to register for this phenomenal event please visit http://www.trivedimasterwellness.com/health-and-wellness-miracles . If you know someone that may be interested in this event or would benefit from an Energy Transmission please let them know about this incredible occasion.
About Trivedi Master Wellness™: Mahendra Trivedi has the unique ability to create The Trivedi Effect® and has the scientific evidence to prove it. This phenomenon of Energy Transmission has been tested in over 4,000 experiments conducted using stringent methodologies and the most advanced technologies available on this planet. Many results have been published in leading international, peer-reviewed, scientific journals. Each experiment shows significant transformation with consistent results. The resulting changes show that this energy has the amazing ability to improve the functionality and potential of an individual. Trivedi Master Wellness™ established in 2011 is intended to provide the benefits of The Trivedi Effect® to optimize human potential throughout the world.
Websites: http://www.trivedimasterwellness.com/, http://www.trivedieffect.com/, http://trivedifoundation.org/, http://trivediproducts.com/
Call us on: +1-877-493-4092
For inquiries please mail us at: cs(at)trivedieffect(dot)com.