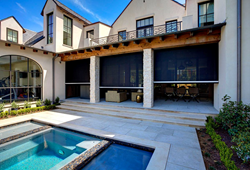 Turn a covered patio or other covered outdoor area into a protected outdoor living space.
SURREY, British Columbia (PRWEB) November 02, 2018
Mirage Screen Systems Inc., a leading manufacturer of retractable screening systems in North America for over 20 years, introduces their new H4800 retractable screen for large openings as wide as twenty-two feet and as high as sixteen feet. This product turns a covered patio or other covered outdoor area into a protected outdoor living space with side-retained fabric rolling down two vertical tracks to prevent bugs or other unwanted pests from entering. Various fabrics can be utilized to eliminate anywhere from 60% to 97% of the sun's rays.
The H4800 is constructed with heavy duty aluminum in North America and will withstand years of regular use and exposure to the elements. The screen's motor possesses an object detection feature to automatically stop and prevent closing of the screen on items inadvertently left underneath it.
The quality and sleek appearance of the H4800 will impress guests to your home and allow for many wonderful gatherings in the fresh air of the outdoors. The experienced Mirage network of dealers will ensure that installation of the product will be professionally done.
"Mirage has built a name for itself with its retractable screen door for over two decades and with the introduction of the H4800 large format screen we are excited to build on that success. Our dealer network partners have been extraordinary ambassadors of our brand and we see that continuing as they embrace this new product. Their passion and professionalism installing the H4800 will translate into many satisfied new customers of Mirage products." says Pete Ingram, Mirage CEO.
This exciting new product was released through the Mirage Dealer Network across North America on October 31, 2018. Learn more at https://miragescreensystems.com.