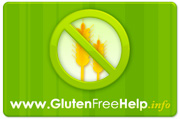 By supporting these start-up projects and companies, we'll see a lot more gluten-free options in the marketplace.
Los Angeles, CA (PRWEB) July 10, 2014
Renowned L.A.-based gluten-free baker and writer Miranda Jade Turbin has begun spotlighting startup and smaller gluten-free food companies through product reviews on her popular Gluten-Free Help Blog (http://www.GlutenFreeHelp.info). A widely read gluten-free food reviewer and tester, Miranda Jade has announced that she'll be focusing on smaller, "mom-and-pop" companies in order to help supply them with support and publicity.
"It is incredibly challenging to launch your own gluten-free company. Most of these company owners are very hardworking and dedicated to the gluten-free cause," Miranda Jade said. "It's really important to back them up because it will give the gluten-free community more options. My goal is to help get the word out about them with my reviews."
Miranda Jade is the writer behind http://www.GlutenFreeHelp.info, originally launched by Miranda's mother, Tina Turbin, and voted the #2 .info website in the world out of over 6 million registered .info sites. With an enormous online following, Miranda Jade has the potential to make a huge impact on the companies she chooses to review.
In her latest review, Miranda Jade shined the spotlight on an innovative new company called Coffee Blocks, which has "reinvented instant coffee," according to its website, with additional healthy ingredients including organic coconut oil, grass-fed butter and free-range egg yolks. In her review, Miranda Jade gave the company "three thumbs up" and urged readers to visit their Kickstarter fundraising website page. She also talked about the background of the company, started by "three passionate guys who balancing kids, life, work, wives, dogs and exercise."
"Coffee Blocks is a great example of the kind of company I want to highlight in my reviews. By supporting these startup projects and companies, we'll see a lot more gluten-free options in the marketplace."
Miranda Jade was diagnosed as a young adult with celiac disease and dermatitis herpetiformis (DH), also known as the "gluten rash," after suffering from the condition throughout childhood. After her recovery on the gluten-free diet, Miranda Jade became passionate about helping the celiac and gluten-free cause. Miranda Jade took Los Angeles by storm at the beginning of 2014 with the launch of her L.A.-based gluten-free bakery, open for orders at http://www.MirandaJadeBakeshop.com. Miranda Jade Bakeshop features many of the acclaimed gluten-free baker's celebrated baked goods prepared in a dedicated gluten-free kitchen.
Miranda Jade shares her acclaimed gluten-free recipes, product and food reviews, and cooking expertise on her blog at http://www.GlutenFreeHelp.info and on her GlutenFreeHelp YouTube Channel, in addition to running Miranda Jade Bakeshop.
###
To Book Miranda Jade Turbin for an Interview Or Speaking Engagement: Contact media(at)glutenfreehelp(dot)info.
To Learn More About Miranda Jade Turbin, Visit: http://glutenfreehelp.info/about-tina-turbin/.
To Purchase Any of the Gluten-free eBooks Visit: http://glutenfreehelp.info/gluten-free-and-celiac-ebooks-available-here/
.
About Miranda Jade Turbin, Official Partner of GlutenFreeHelp.info:
Miranda Jade Turbin was finally diagnosed with celiac disease after 18 years--her entire childhood--of repeated misdiagnoses, going from one doctor to the next and in and out of hospitals without any answers. Within two weeks of removing all gluten from her diet, Miranda Jade's life completely turned around. After her experience, she knew in her heart she had to help others as an advocate for celiac disease and gluten sensitivity. Miranda Jade teamed up with her mother Tina Turbin, also a diagnosed celiac and founder of the award-winning website GlutenFreeHelp.info, to this day handling this very busy website. Miranda Jade has gone on to write numerous eBooks, articles, reviews, and sought-after gluten-free grain-free recipes. Miranda Jade is bicoastal with gluten-free test kitchens on both coasts.
###
For more information or to schedule an interview, please call Rosie Newman at 1-888-701-6481 or pr(at)theprgroupeast-west(dot)com.