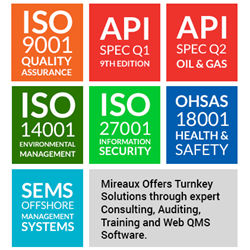 We provide turnkey services designed to help companies achieve certification, remain compliant and become more competitive.
Houston, Texas (PRWEB) January 29, 2014
Mireaux Management Solutions, a technology and consulting firm that specializes in assisting companies achieve international standards certification (ISO, API, OHSAS and SEMS standards), has unveiled its new website and opened online registration for Public Training courses.
Mireaux's new website offers an expanded array of information on the company's core services: Consulting, Auditing, Training, Document Control and its Web QMS software. Miriam Boudreaux, the company's president, says, "We wanted to clearly illustrate that we provide turnkey services designed to help companies achieve certification, remain compliant and become more competitive."
Mireaux has also announced its 2014 Public Training Schedule. These hands-on training courses vary from 1-3 days in length and are designed to provide an in-depth understanding of the topic. Currently scheduled sessions include Executive Overviews, Internal Auditor training and business processes including Risk Assessment and Document Control. Public training sessions are held at the company's northwest Houston headquarters, though on-site training offerings are also available. Participants can register for public training online.
For companies seeking ISO, API, OHSAS or SEMS certification, there are also a number of highly useful resources. Chief among these resources is the Vanguard Blog – dedicated to covering topics in the world of international standards and management systems – authored by Ms. Boudreaux, an ISO and API specialist. Ms. Boudreaux is also a speaker on certification standards, and a frequent contributing author at Quality Digest.
Other resources include a compendium of helpful lists, focusing on international registrars, regulatory agencies, calibration companies and firms that specialize in data destruction – all assets that form a critical part of compliance with the various certification standards.
Mireaux Management Solutions serves clients across a wide range of global industries, including Oil & Gas, Transportation, Electronics, Information Services and Manufacturing. The company provides turnkey consulting on ISO 9001:2008, API Spec Q1 9th Edition, API Spec Q2, ISO 27001:2013, ISO 14001:2004, OHSAS 18001:2007 and SEMS standards, as well as Auditing and Training services. Mireaux is itself ISO 9001:2008 certified, and distinguished as a WBE (Women's Business Enterprise) and MBE (Minority Business Enterprise). Mireaux has also been recognized as one of the Top 25 Information Technology consulting firms by the Houston Business Journal.