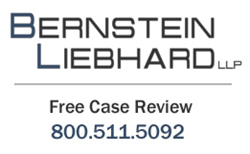 Our Firm is representing numerous women who have Mirena lawsuits pending in the New Jersey litigation. We are pleased to see this proceeding moving forward.
New York, New York (PRWEB) May 19, 2014
Hundreds of Mirena lawsuits (http://www.themirenalawsuitcenter.com)
continue to move forward in a multidistrict litigation now underway in New Jersey's Bergen County Superior Court, Bernstein Liebhard LLP reports. In an Order dated May 8, 2014, the Court reserved ruling on the plaintiffs' application to extend the proceeding's discovery deadlines. The matter will be decided once the Court has conferred with U.S. District Judge Cathy Seibel, who is overseeing hundreds of similar Mirena IUD lawsuits in the U.S. District Court, Southern District of New York. (In Re: Mirena Litigation; Case No. 297)
"Our Firm is representing numerous women who have Mirena lawsuits pending in the New Jersey litigation. We are pleased to see this proceeding moving forward," says Bernstein Liebhard LLP, a nationwide law firm representing victims of defective drugs and medical devices. The Firm is currently offering free case evaluations to women who allegedly suffered serious Mirena complications including spontaneous migration of their IUD.
Mirena IUD Lawsuits
According to court documents, more than 780 women have filed Mirena lawsuits in Bergen County Superior Court, all of which allege spontaneous migration of the IUD caused serious injuries, including uterine perforations, infections, scarring, and infertility. An additional 528 claims that make similar allegations have been consolidated for pretrial proceedings in the U.S. District Court, Southern District of New York. (In re: Mirena IUD Products Liability Litigation, MDL No. 2434) All of these lawsuits accuse Bayer Healthcare Pharmaceuticals of failing to provide adequate warnings regarding the potential for Mirena to migrate from its proper position in the uterus long after it has been correctly inserted by a healthcare provider. Instead, plaintiffs claim that Bayer only warns that migration can occur if the uterus is punctured during the IUD's initial implantation.
The Mirena IUD is a long-acting method of birth control that was launched in the U.S. in 2000. The IUD is now approved as both a contraceptive and as a treatment for heavy menstrual bleeding in women who wish to use an IUD as birth control. According to a report that was broadcast by 7 Action News last August, the U.S. Food & Drug Administration (FDA) has tallied more than 70,000 complaints involving Mirena complications, including thousands of reports of device dislocation and uterine perforation.*
In 2009, Bayer was cited by the FDA for a Mirena promotional campaign that the agency found to be misleading. Among other things, the FDA asserted that the campaign included statements that exaggerated Mirena's benefits and downplayed its potentially serious risks.
Women who allegedly experienced spontaneous migration of the Mirena IUD, as well as uterine perforations and other related complications, may be eligible to seek compensation for damages caused by their injury. To learn more about the litigation involving Mirena, please visit Bernstein Liebhard LLP's website, or the Firm's Facebook page: https://www.facebook.com/mirenalawsuithelp. For a free and confidential evaluation of a potential Mirena lawsuit, please call 800-511-5092.
*wxyz.com/dpp/news/local_news/investigations/thousands-of-women-complain-about-dangerous-complications-from-mirena-iud-birth-control, 7 Action News, August 27, 2013
About Bernstein Liebhard LLP
Bernstein Liebhard LLP is a New York-based law firm exclusively representing injured persons in complex individual and class action lawsuits nationwide since 1993. As a national law firm, Bernstein Liebhard LLP possesses all of the legal and financial resources required to successfully challenge billion dollar pharmaceutical and medical device companies. As a result, our attorneys and legal staff have been able to recover more than $3 billion on behalf of our clients. The Firm has been named by The National Law Journal to the Plaintiffs' Hot List, recognizing the top plaintiffs firms in the country, for the past 12 consecutive years. Bernstein Liebhard LLP is the only firm in the country to be named to this prestigious list every year since it was first published in 2003.
Bernstein Liebhard LLP represents the victims of defective drugs and medical devices on a contingency-fee basis, and our clients are never expected to pay attorneys fees unless their case results in a successful recovery on their behalf. New York State's contingency fee cap rules generally limit those fees to 33 1/3% of the total recovery. As a result, the Firm's fees can be significantly lower than those assessed by attorneys in other states, which depending on the law may amount to as much as 40% or more of a plaintiff's recovery.
Bernstein Liebhard LLP
10 East 40th Street
New York, New York 10016
800-511-5092
ATTORNEY ADVERTISING. © 2014 Bernstein Liebhard LLP. The law firm responsible for this advertisement is Bernstein Liebhard LLP, 10 East 40th Street, New York, New York 10016, 800-511-5092. Prior results do not guarantee or predict a similar outcome with respect to any future matter.
Contact Information:
Felecia L. Stern, Esq.
Bernstein Liebhard LLP
info (at) consumerinjurylawyers (dot) com
http://www.themirenalawsuitcenter.com
https://plus.google.com/115936073311125306742?rel=author