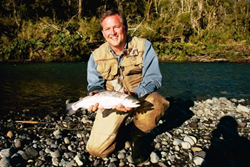 Every now and again you run into a unique property that takes your breath away. Los Leones is just one of those properties.
Denver, CO (PRWEB) March 12, 2014
The price for the beautiful and serene Fundo Los Leones, a 1,700 +/- acre fundo located in the Aisén Province of Chile, has recently been reduced to $3,400,000. Marketed by Mirr Ranch Group of Denver, Colo., the property was previously owned by well-known conservationists Douglas Tompkins, co-founder of The North Face and ESPRIT, and his wife, Kristine Tompkins, former CEO of Patagonia, Inc.
"Fundo Los Leones is a high-end sporting property that adjoins conserved lands. This is a representative of Mirr Ranch Group's portfolio of listings and commitment to international conservation efforts," explained Owner/Broker of Mirr Ranch Group, Ken Mirr.
Located on a secluded peninsula created by the River Palena and the Pitipalena Fjord as they meet the Pacific Ocean, this sporting property provides eco-tourism and recreational opportunities such as boating, yachting and fly-fishing. One can fish for trout or salmon, or dig for clams and oysters on miles of sandy calm beaches.
According to Patagonia Specialist Jeff Wells, "Every now and again you run into a unique property that takes your breath away. Los Leones is just one of those properties. Here the reality exceeds the hype. The property covers a huge estuary, with three bordering rivers, and is situated at the mouth of an incredible fjiord called the Pitipalena where you can see dolphin orca or go out into the ocean to visit colonies of sea lions."
The property also adjoins a landing strip, allowing for easy access on charter flights from Puerto Montt, a little less than an hour away.
"Since this organic pastoral sheep farm with rolling meadows and impressive improvements is adjacent to a public landing strip, it really creates one of the most exclusive resorts in the world for commercial or private usage. Nearby national parks and two glacier clad volcanoes add to the limitless exploration and seclusion provided not only on the property but also hundreds of miles in almost any direction," Wells adds.
For media inquiries, arrange for an interview, or get an expert quote, please contact Mallory Boyce at (303) 623-4545 ext. 4. Photography available upon request.
About Mirr Ranch Group
Mirr Ranch Group offers marketing and buyer acquisition services for fine sporting properties and legacy ranches for sale throughout the American West and Patagonia. Brokers for the company are known for their expertise in sporting, agriculture, public lands, and conservation in addition to their unsurpassed knowledge of ranch transactions.
For more information, contact:
Mirr Ranch Group
915 South Pearl Street
Denver, CO 80209
(303) 623-4545
http://www.MirrRanchGroup.com