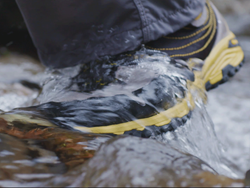 Mishmi Takin designed its initial jackets and footwear to quickly rid moisture, both inside and out, in any climate – including heavy rainfall and high humidity conditions.
TAMPA, FL. (PRWEB) March 29, 2016
Through the strength of ventilation-focused design, and two important partnerships with Vibram and eVent Fabrics to provide materials, outdoor gear maker Mishmi Takin created a line of boots and jackets built to perform in wet conditions where all other products fail.
After years of work and preparation, Mishmi Takin will launch a portion of its products on Kickstarter beginning March 29. Contributing to the campaign can provide access to special pricing for jacket and boot options at up to 45% off of expected retail as well as the opportunity to purchase trips guided by the founder to: a tiger reserve near Delhi, India; a Mishmi Takin search expedition in Eastern Himalayas; and to a date with chimpanzees in Mt Nimba Nature Reserve, Liberia, West Africa. It also supports the growth of Mishmi Takin as the team builds towards providing its profoundly different outdoor gear to a global audience. Mishmi Takin's goal to raise $40,000 will fund a manufacturing ramp-up towards production in large quantities.
Mishmi Takin focuses on maximizing the air exchange between inside of gear and outside. In addition to ventilation-focused design, Mishmi Takin's top difference is the use of Dry System membranes and fabrics that are microporous and air permeable, to provide continual comfort even in wet or humid conditions. No other hiking footwear (and very few jackets) offers this level of protection. Mishmi Takin designed its initial jackets and footwear to quickly rid moisture, both inside and out, in any climate – including heavy rainfall and high humidity conditions.
The product line grew out of Founder, and MIT Graduate, Kapil Dev Singh's experiences working and hiking in his native India and Liberia, West Africa. While delivering medicines to remote villages in West Africa and Eastern Himalayas, he realized he couldn't find boots or outerwear that worked properly in high humidity conditions. After multiple soggy and slippery experiences, he saw an opportunity to create ultra-breathable performance hiking boots designed to perform in tropical conditions.
After searching the globe for the best designers, materials and factories, Dev Singh engineered a product to perform equally well across all wet climates. The 'Made in Europe' footwear and 'Designed in Europe' outerwear solve the simple problem of staying comfortable when conditions are at their worst.
"When hiking in New England my gear usually performed well, but in the tropical forests of India and West Africa, it failed miserably," explained Dev Singh. "My feet were hot, sweaty and uncomfortable constantly."
Get Wet, Stay Dry
Mishmi Takin has selected seven of their most popular and highest performing outdoor gear designs to offer at deep discounts to supporters on Kickstarter. Each boot or jacket touts a different combination of features to provide a level of protection fit for the most common outdoor activities.
Some of the key differentiating features in the Mishmi Takin lines are:

Vibram MegaGrip Rubber for traction on wet & slippery surfaces
Cordura Fabric
eVent Direct Venting Membrane
Laser-Cut Vents
Abrasion resistant panels on jackets
Helmet Compatible & Adjustable Hoods
Engraved Shank on Boots for Stability
Mishmi Takin is an international footwear and outerwear company designing high performance boots and hard and soft shell jackets, optimized for the rigors of wet environments. Since the products breathe better in extremely challenging, rainy and humid tropical environments, they are able to outperform in other more temperate and dry environments as well. The company merges the exuberant style of the tropics with high performance technologies to create products that are at home in both the mountains and city. Its products are ideal for adventure travel, hiking, mountaineering and urban exploration.
For more information, find Mishmi Takin around the web:
http://www.mishmitakin.com
FACEBOOK: https://www.facebook.com/MishmiTakin
TWITTER: https://twitter.com/Mishmi_Takin
INSTAGRAM: https://www.instagram.com/mishmitakin
Kickstarter Page Preview Link: https://www.kickstarter.com/projects/2035371324/620519001?token=0f67a151