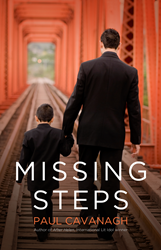 Cavanagh writes "with incisive observational skill and a plain-spoken, moderate tone. The result is an emotional depth that is often shocking in its intensity, fidelity and resonance…"
London, Ontario, Canada (PRWEB) May 01, 2015
Canadian novelist Paul Cavanagh has been compared to Pulitzer Prize winner Anne Tyler for his ability to be at turns funny and moving while exploring the paradoxes of modern family relationships. His second novel, Missing Steps, tells the story of Dean Lajeunesse, a middle-aged man worried about his failing memory. When Dean returns home to the sickbed of his estranged mother with his teenaged son, Aidan, he finds himself reliving his difficult relationship with his father, who died in his fifties of dementia.
Cavanagh burst onto the international literary scene when he was crowned the world's first Lit Idol at the London International Book Fair in the UK. The novel that won him the title, After Helen, garnered stellar reviews in the United States, Canada, and the British Isles. His eagerly anticipated follow-up, Missing Steps, is already receiving attention from the British press.
Canada's Globe and Mail declared that Cavanagh writes "with incisive observational skill and a plain-spoken, moderate tone. The result is an emotional depth that is often shocking in its intensity, fidelity and resonance…" Missing Steps is further evidence of his deftness at writing compelling, emotionally-intelligent stories.
When the novel's protagonist, Dean, reluctantly returns home after years of avoiding his mother, family tensions bubble to the surface. He butts heads with his older brother, Perry, who's remained loyal to their mother and has succeeded in almost every way that Dean hasn't. Meanwhile, Dean must try to figure out whether he's doomed to be overtaken by dementia, just like his father, as he struggles to hold on to his son's respect.
"I had to get past the stock literary notion of Alzheimer's disease as tragedy," Cavanagh says. "Sure, the disease can be horrifying, especially for a writer like me who spends much of his life inside his own head. But what's important to understand is that even though it can't be cured, there are hopeful ways of facing it."
Above all, Missing Steps is about families, the secrets they keep, and the importance of forgiveness.
In addition to being an accomplished storyteller, who learned his craft at the Humber School for Writers and Western University, Cavanagh is a therapist, educator and health care consultant. He also cared for a father with dementia. He lives in London, Ontario (not to be confused with that other London).
Missing Steps was released through Not That London Publisher on April 30, 2015. It can be purchased as a paperback through major booksellers (ISBN 978-0-9938093-2-3, cover price $17.49 United States, $23.99 Canada, £12.49 United Kingdom). It can purchased as an e-book through eBookIt.com (http://www.ebookmissingsteps.com) and other e-book retailers (ISBN 978-0-9938093-3-0, suggested price $5.99 United States, $7.99 Canada, £3.99 United Kingdom).
Praise for Paul Cavanagh and his debut novel, After Helen
"An absorbing and deeply touching debut, After Helen is a whirlwind of a novel that, once started, is incredibly difficult to put down."
– Irish Examiner
"…a nuanced exploration of what it means to mourn those we love most, all their flaws considered. After Helen is an emotionally intelligent, surprising novel that more than earns its stripes." (5 stars)
– Foreword Reviews
"Helen is a complex and powerful character in a novel full of them, but she is by herself worth the price of admission."
– The Waterloo Record
"I can see why Cavanagh won a Lit Idol competition, because it's difficult to criticise anything in this story: prose, structure, plot development, consistent characterisation, background, continuity of theme. This is a well-written novel." (Recommended)
– The Bookbag
"I'm not the first one to say it, but here it is: After Helen is a winner."
– The Globe & Mail
About eBookIt.com
Since 2010, eBookIt.com (based in Sudbury, Massachusetts) has helped thousands of authors and publishers get their books converted to ebook format, and distributed to all the major ebook retailers, including Amazon.com, Barnesandnoble.com, Apple iBookstore, Kobo, Sony Readerstore, Ingram Digital, and Google eBookstore.
###