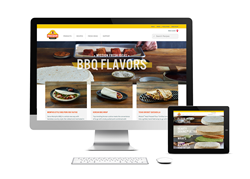 All of the imagery and recipe development that has been compiled by Mission Foods over the years deserves to be showcased properly.
SPRINGFIELD, Mo. (PRWEB) September 22, 2015
To create a more comprehensive overall experience for Mission Foodservice customers, deep, a foodservice marketing agency in Southwest Missouri, recently announced a new and enhanced website design.
With a goal to simplify navigation, the new Mission® website design combines appealing visuals with a user-friendly layout. Accommodation to any device such as laptops, tablets and smart phones creates a better support tool for operator customers and internal sales teams in terms of programs, training tools and information. The new layout also allows deep to leverage the robust library of Mission Foodservice visual assets including product imagery, recipes and recipe photography.
"Showcasing all of the visual assets was one of our team's top priorities when creating this new site," says Chris Heil, account supervisor at deep. "All of the imagery and recipe development that has been compiled over the years deserves to be showcased properly. The Mission Fresh Ideas program is the perfect way for operators to see Mission products in action."
The Fresh Ideas program focuses on trend-based menu solutions to help operators capitalize on current and emerging trends and ideas for profitable LTO menu items. To highlight the versatility of Mission Foodservice products, deep enlisted the help of Food IQ, their sister agency. Food IQ's involvement was instrumental in bringing the Fresh Ideas program to life in both trend support documents and recipe application.
Viewers can access the revamped Mission Foodservice website at missionfoodservice.com and sign up for the monthly newsletter to receive the latest recipes programs and product information.
Visit deepgroup.com to learn more about deep's work and variety of foodservice clients.
About deep
Founded in 2005, deep is a renowned food-branding agency that creates successful business-to-business and direct-to-consumer advertising campaigns across the United States and around the world. Deep is part of the Marlin Network, which represents over 70 food and beverage brands. The Network also consists of FoodIQ, STARAwards, The Alchemedia Project, Marlin and Marlin Network Consulting. Based out of Springfield, Missouri, Marlin Network is the number one purchaser of foodservice media and was listed in Inc. Magazine's list of America's Fastest Growing Companies in 2010, 2011, 2012, 2013, 2014 and 2015. To learn more about deep, visit deepgroup.com or follow the agency on Twitter, Facebook, Pinterest, Instagram and the b!eep blog.