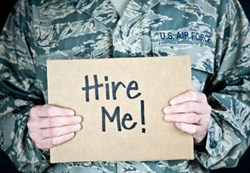 In my post interview review I found you […] I nailed all of the subsequent phone interviews and my face to face interview.
Dallas, TX (PRWEB) December 28, 2013
Career Confidential is proud to introduce their most comprehensive job search product specifically tailored for veterans of the United States military called Mission: Transition. This new product already has one satisfied customer, an active duty service member with 2 months left until he enters the civilian world:
"My first interview was not good, but in my post interview review I found you…I nailed all of the subsequent phone interviews and my face to face interview. The result is I landed my dream job against some stiff competition. The brag book was a game changer and when I brought out the 30-60-90 Day Plan, I could sense the deal was sealed."
The Mission: Transition job kit is a customizable, comprehensive, and proven career-advancing system. The kit contains nine hours of in-depth video training, podcasts, reports, templates, samples, printable handouts, and tutorials on the latest technology necessary for a successful job search, interview, and job offer.
Personalized support is also available as part of the Mission: Transition package. A resume review and biweekly group conference calls will help to guide the transitioning service member away from the pitfalls of going the job search alone.
Career Confidential is Committed to Getting America Back to Work
Career Confidential was founded in 2009 under the guidance of CEO Peggy McKee and CTO Carl Chapman, two nationally recognized experts in the field of job search training. Career Confidential's successful first product, the 30/60/90 Day Business Plan, spurred the creation of over 30 products today that provide tools, techniques, and tips to help every job seeker find the perfect job.
Career Confidential exploded in 2012 with a 94% growth rate over 2011 in a down economy. After assisting over 10,000 people get jobs, Career Confidential has set a goal to get at least 10,000 more people into successful careers in 2013. Career Confidential is committed to getting the unemployed back to work in 2013.
Peggy McKee is a nationally recognized career expert. She is available for personal career coaching. For answering questions about this topic overall, give Zanetta Siciliano a call at 800-691-2562