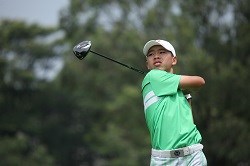 'It's pretty exciting for me to compete against Tiger Woods and Rory McIlroy in a Skills Challenge before they play The Match at Mission Hills,' said Guan, who has become a golfing icon in his home country.
Hainan, China (PRWEB) September 30, 2013
Mission Hills never misses an opportunity to promote junior golf. Accordingly, Chinese amateur sensation Guan Tianlang will join World No. 1 Tiger Woods and two-time major winner Rory McIlroy in a Skills Challenge before the two established mega-stars head out for The Match at Mission Hills, to be held over the Blackstone Course here at Mission Hills Haikou on Oct. 28.
Guan, who made Masters history earlier this year -- competing as a 14-year-old and making the cut on golf's biggest stage -- will join his idols in a Skills Challenge on the practice range, as part of the warm-up prior to The Match. All three players will demonstrate precision and technique by hitting targets placed strategically around the range, while simultaneously engaging with and passing along valuable tips to what organizers expect to be a massive group of aspiring young golfers.
Guan, a Guangzhou native, has been a regular at Mission Hills youth tournaments since 2008. Indeed, Mission Hills Haikou will host a two-day tournament for juniors Oct. 26-27 -- winners of the boys' and girls' events (in the 12-15 and 16-18 age groups) will receive their prizes from Woods and McIlroy after The Match at Mission Hills. The low gross winners, boys and girls, will qualify for the International Junior Golf Tour's Tournament of Champions in Grand Cypress, Florida, May 25-27, 2014.
Directly after the Skills Challenge, Woods and McIlroy will also conduct a clinic for the Chinese National Junior Team, many members of which will have competed over the weekend.
Admission to The Match at Mission Hills (and the Skills Challenge) will be free of charge for all spectators under the age of 18.
"It's pretty exciting for me to compete against Tiger Woods and Rory McIlroy in a Skills Challenge before they play The Match at Mission Hills," said Guan, who has become a golfing icon in his home country. "As the event is taking place in China, I hope to get some local support. I might have a chance because these are short targets -- I'm glad it's not a long-driving contest!"
While the Oct. 26-27 Junior Series Tournament will be held on The Vintage Course at Haikou, the main event -- The Match at Mission Hills -- will be contested over the acclaimed par-73 Blackstone Course that hosted the 2011 World Cup of Golf, when the Irish team of McIlroy and Graeme McDowell finished tied for fourth behind American champions Matt Kuchar and Gary Woodland.
Mission Hills expects an overflow crowd -- juniors and otherwise -- for the Oct. 28 match, which will be contested at stroke play.
The Oct. 26-27 junior tournament and Guan's participation represent another milestone in Mission Hills' ongoing contribution to the development of junior golf in Asia. "Junior golf development has always been a key component of our tournament schedule here at Mission Hills," said Tenniel Chu, vice chairman of the Mission Hills Group, which owns and operates 12 courses at its Shenzhen location, on the Chinese mainland, and 10 more here in Hainan. "We've hosted something in the region of 14,000 rounds of junior competition since 2006. Whenever there is an appropriate international platform, with golf legends on hand, we are determined to include junior golf elements, as we view these as both golf and educational opportunities for young players across Asia, North America and Europe.
About Mission Hills Group
Mission Hills Group, owner and operator of Mission Hills in the heart of the Pearl River Delta and the tropical island of Hainan, is the pioneer in China's fledgling hospitality, sports and leisure industry. Founded in 1992, Mission Hills is recognized as the leading golf brand in the world and synonymous with high-end, luxurious and exquisitely designed residences. Mission Hills has been the major driving force behind the sports and leisure industry in China. Its three world-class integrated leisure and wellness resort destinations have hosted more than 100 international tournaments. Mission Hills has also been accredited as the 'World's Largest Golf Club' by the Guinness World Records.
Mission Hills' properties sprawl over 40 sq.km. They include 22 championship courses designed by renowned players and architects from five continents, five-star resorts, award-winning spas and volcanic mineral springs, an international convention center, golf academies and Asia's largest tennis facility. Mission Hills is also the official training headquarters of China's Tennis and Golf Associations.
The Group's "golf and more" leisure philosophy has catalyzed its tourism-related business expansion. Mission Hills Centreville and Mission Hills Lan Kwai Fong Haikou are family-friendly metropolitan leisure complexes and low-carbon town centers. Hubs for business, leisure, wellness and entertainment, their highlights include 1,000-plus international anchor brands featuring the latest fashion labels, finest jewelry and watches; trendiest restaurants, cafes and bars; state-of-the-art multiplex cinemas; ice skating rinks; bowling alleys; world-renowned auto showrooms; and many other exciting offerings. A total of six hotels are showcased in these developments, among them Marriott International's Ritz-Carlton and Renaissance hotel brands, and Hilton International.
Today, Mission Hills Group has achieved many milestones and become the pre-eminent conglomerate in the sports, tourism, leisure and entertainment industry. The next breakthrough in the Group's evolution will occur as it brings its tried and true branding and golf management services to Beijing, Shanghai, Xian, Yunnan, Chongqing and other destinations. Website: http://www.missionhillschina.com