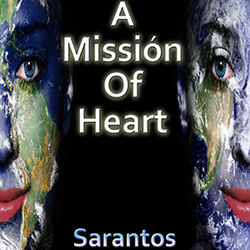 You can't please everyone. Some will think you are full of it and others will commend you. You just can't do it for the recognition and accolades. You have to do it because deep down, it feels like the right thing to do!
(PRWEB) May 05, 2015
Sarantos Releases A Singer-Songwriter Folk Song Near And Dear To His Own Heart - "A Missión of Heart" Which He Wrote About A Man On A Mission To Change The World And Make It A Better Place.
Sarantos tries to help others every day with his primary day job. One day, when it is revealed to the world what Sarantos does for a living, fans will probably finally understand and appreciate where Sarantos has been coming from and his mission will make a little more sense. The importance of not constantly thinking about one's own self and material possessions is an important message and one that is not frequently stressed enough in today's world. The charities that Sarantos works with are all noble and trying to make a difference. Sarantos encourages all of his fans to take 5 minutes out of their day to try and do something nice for those less fortunate. Sarantos tries to lead by example and urges all musicians to join this cause. Together, a difference can be made. As Sarantos routinely says on radio interviews, how much money do you really need? How many new cars do you truly need? There are many in the world that do not have the basic necessities of life such as food, clothing and shelter. How many of us can truly say we are in that same situation??
"If we all just give a little bit more, there's no question we can make a tremendous difference in this world" says Sarantos. "All it takes is a little time and effort from each and every one of us. We do all have it inside of us! I believe most people, including artists, are generally good natured. We all have bad things happen to us and they sometimes make us jaded or make us a little less generous. Additionally, I don't believe that all donations and acts of giving need to be made public. In my life, the vast majority of my donations have been anonymous and I just don't believe we need to always be taking pictures of large donation checks and flashing them all over the media. Ultimately people will think what they will and judge us accordingly. You can't please everyone. Some will think you are full of it and others will commend you. You can never do it for the recognition and accolades. You have to do it because deep down, it feels like the right thing to do and for me it does. I don't do it for the press. I never have and never will. I do it because I can. I do it because it feels right!"
Sarantos won the Akademia LA Music Awards in March 2015 for:

Best Rock Music Video for "We Accept The Love We Think We Deserve"
Best Pop Rock Album for "Not Where I Wanna Be"
Sarantos was nominated for 2 awards for the 2014 International Music & Entertainments Awards for the categories of "Rock Song of the Year" and "Pop Album of the Year".
Even without a label or radio promoters, Sarantos song "What If I Never See You Again" was ranked #158 on the majors list in the US for radio airplay according to the Digital Radio Tracker Top 200 charts for the week ending in 4-25-15. It's hard to believe but yes, Bruno Mars and Mark Ronson were ranked #1 with "Uptown Funk". On the independent charts, Sarantos was ranked #2.
33% of any music-related sales profits from this song are going straight to Heart to Heart International.
Heart to Heart International strengthens communities through improving health access and providing humanitarian development worldwide. They engage volunteers, collaborate with partners and deploy resources to achieve this mission.
They imagine a world in which every person has access to a healthy life and every community has the capacity to make that access a reality. They believe that sustained access to health sets the foundation for individual and community development. In everything they do, they work to broaden access to healthcare services and build capacity for health. It's a lofty vision, but they take a step closer to it every day through support from others.
With recorded hits and new tunes waiting to be released every single month until the day he dies, Sarantos' music screams success and stimulates an overdue conversation in the changing music industry. Sarantos' loyal music fans continue to show their support by proudly showing off Sarantos merchandise and staying tuned into Sarantos' daily down-to-earth and very real social media revelations. His songs are being broadcast every day on various radios stations around the world. Sarantos continues to do interviews around the world every single week and fans can listen in to some of them on his YouTube page. Let's not forget his funny, sarcastic, witty and genuine music videos that leave his fans not knowing what to expect next.
There will be plenty of continued buzz throughout the year as Sarantos strives to release something for his fans every single week. Every year until the day he dies, Sarantos will release a new song on the 1st Tuesday of every month, a new music video on the 2nd Tuesday of every month, a chapter from his fiction/fantasy book on the 3rd Tuesday of every month, and a new Whiteboard video on the 4th Tuesday of every month. A new CD will then be released every November.
Sarantos has been writing lyrics since 4th grade and is passionate about the words he puts to the music. Music was always in his blood. Music was always a passion and much more than a hobby. Sarantos has written over 2,000 songs. Having undergone several personal challenges with Sarantos' father passing away four years ago after a long hard-fought battle with lung cancer, dealing with personal health issues like asthma and allergies which affected his singing style, going thru life's ups and downs, the timing was finally right. And so it began. Sarantos' main motivation remains, however, to raise money for charity.
33% of any music related sales are going straight to charity.
Sarantos has always been inclined to help people in need and is proud to launch his music as a way to donate a portion of proceeds to charity, hopefully inspiring other artists to do the same. Just a few of the charities chosen so far include the American Cancer Society, American Lung Association, Make-a-Wish Foundation, American Heart Association, St Jude's, Hellenic Academy, American Red Cross, Salvaton Army, Children's Hospital of Chicago...
The website, Melogia (which in Greek means "with words") was established by Sarantos, an aspiring singer and song writer.
*Because Sarantos wants his music shared throughout the world, fans can always find all of his songs, lyric sheets, videos and books on his website for free at https://www.melogia.com/music.html. He openly gives everyone the right to share his song mp3s for free with anyone they want via email or any of the social media platforms.
Sarantos Mission or Goal:
"My goal when you listen to one of my songs is very simple. I want you to feel the need to:
-Sing
-Dance or move to the groove
-Play the song over and over again"
Website
http://www.melogia.com
Sarantos' Facebook artist page:
https://www.facebook.com/Sarantosmelogia
Sarantos' Twitter:
http://www.twitter.com/sarantosmelogia
Sarantos' Youtube:
http://www.youtube.com/user/SarantosMelogia
Sarantos' iTunes:
http://bit.ly/SarantosAppleStore