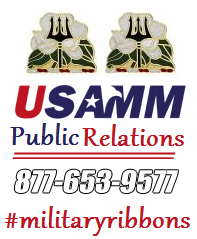 As a veteran I know how hard it is to find the exact item you need, which is why we are a huge resource for Mississippi Soldiers.
Milwaukie, OR (PRWEB) October 29, 2013
Local military uniform superstore, USA Military Medals, is now supplying Mississippi National guard distinctive unit insignia, here, today, as dress uniform inspections loom for National Guard members across the nation.
From military slang, a Distinctive unit insignia (DUI) or "unit crest" is a metal heraldic device worn by soldiers in the United States Army.
A "uniform inspection" refers to the prescribing of wear and appearance of the Army dress uniform to ensure they are correctly assembled and in accordance with Army regulations.
The unit crests - consisting of the U.S. Army Mississippi National Guard Unit Crest, U.S. Army 154th Regiment Unit Crest (Firm To My Trust), U.S. Army 185th Aviation Group Unit Crest (Above Valor And Courage), U.S. Army 210th Finance Battalion Unit Crest (Duty Honor), U.S. Army Special Troops Battalion 155th Armored Brigade Unit Crest (Honor Is Our Strength), to name a few - are sold in pairs with steel pin-backing and ship within hours.
"These items are a common fixture on the Army dress uniform, but that doesn't mean they're easy to find," said USAMM LLC President of Business Operations, Jared Zabaldo.
USAMM owns and operates USA Military Medals along with various other e-commerce uniform stores.
"Camp Shelby, just south of Hattiesburg, might have some assorted dress uniform products, but items like unit crests, especially because they're unit specific, are going to be almost impossible to find in an MCSS," explained Zabaldo.
The MCSS (Military Clothing Sales Store) or Exchange is a joint non-appropriated fund instrumentality of the Department of Defense (DoD), offering products and services to troops on base around the world.
"As a veteran I know how hard it is to find the exact item you need, which is why we are a huge resource for Mississippi Soldiers," said Zabaldo.
These Mississippi unit insignia are available for purchase now on UMM. Service members may additionally find and purchase their military medals and ribbons through the online "Ez Rack Builder" program – a free uniform tool available to all veterans and active duty service personnel.
About USA Military Medals:
USA Military Medals (http://www.usamilitarymedals.com/) is an Internet-based company formed in 2005, carrying more than 14,000 dress uniform products in stock and specializing in custom military medal and military ribbon rack production with their state-of-the-art rack builder. USA Military Medals also operates a brick and mortar store servicing local military personnel and veterans.