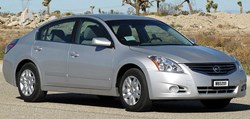 This is a dangerous practice, which puts both one's finance and credit at risk.
Kansas City, Missouri (PRWEB) January 26, 2014
Missouri Auto Finance, a provider of auto loan services for people all across the state of Missouri, recently addressed an age-old question among car-shoppers: Is it a good idea to buy a car with a credit card? The team at Missouri Auto Finance has noticed this question coming up again and again of late, probably due to the rise in credit cards with 0% APR introductory credit card offers, many of which last six to 12 months. Many consumers believe that they can pay less in interest by using such as credit card, and unlike a car loan, the funds aren't secured by the vehicle, eliminating the risk of repossession. However, the team at Missouri Auto Finance cautions consumers against this practice, as the interest rates are so high once the introductory rates have ended.
The full post, entitled "Buying a Car With a Credit Card–Smart or Dumb?", is available here.
"We've noticed consumers leaning more toward this practice, excited to put their zero interest or low interest introductory offers to use," said one company spokesperson. "However, this is a dangerous practice, which puts both one's finances and credit at risk." He went on to say that the team at Missouri Auto Finance is hoping this post will make consumers think twice before putting their next car purchase on their credit card.
About the Company: Missouri Auto Finance helps consumers in need of financing get matched with dealers and lenders who will approve their credit.