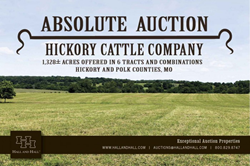 Great working ranches like this one are difficult to find.
Eaton, Co (PRWEB) July 30, 2014
Hall and Hall is pleased to announce the absolute auction of Hickory Cattle Company, 1,328± acres of farmland offered in six tracts and combinations ranging from 40± to 444± acres, on Wednesday, September 10th at 10:00 am. MST. Less than two hours south of Kansas City, MO and an hour north of Springfield, MO, this intensive grazing operation offers abundant grass, excellent working facilities, and huge stocking rates that will pay dividends for generations. Information dates are slated for Wednesday, August 13th from 10:00 am – 12:00 pm and Wednesday, August 27th from 10:00 am – 12 pm. For more information, contact Scott Shuman of Hall and Hall Auctions at 800-829-8747 or visit http://hallhall.com/ranches-for-sale/properties/hickory-cattle-company.
"Great working ranches like this one are difficult to find," said Shuman. "It is well improved for a profitable cattle operation."
The acreage includes 975± acres in intensive grazing paddocks and 50± acres planted to corn. Other tracts are improved with shops, barns, working corrals, equipment sheds, a 3,400 foot FAA approved runway, and a 1,000 square foot cabin style home with 2 bedrooms and 1 bathroom. The land has five wells used for the automatic stock tank watering system, three irrigation wells rated at 350 gpm used to supplement grazing and several ponds that can be used for livestock watering and wildlife proliferation.
"This ranch also hosts a large population of turkey and whitetail deer," said Shuman. "Each tract has a varying degree of mature woodlands, ponds and creeks that add to the habitat of the wildlife."
Hickory Cattle Company has received very little hunting pressure over the past half-decade, and its close proximity to several larger cities makes it convenient for quick arrivals. The nearby Pomme de Terre State Park offers fishing for Bass, Walleye, Catfish, Crappie and Muskie. For more information, contact Hall Auctions at 800-829-8747 or visit http://hallhall.com.
About Hall and Hall:
Hall and Hall was formed in 1946 as an agricultural mortgage company, and has since branched out into farm and ranch brokerage, appraisals, resource management and enhancement, retained search, auctions, and consultation on conservation easements and stewardship plans. Hall and Hall has emerged as the largest full service rural real estate firm in the Rocky Mountain West and Great Plains regions, managing more than one million acres of land, and servicing a loan portfolio of more than $500 million. A unique partnership between its offices in Montana, Wyoming, Idaho, Texas, Kansas, Nebraska and Colorado ensures that the client receives local knowledge and personal service as well as the international perspective needed to make informed acquisition and management decisions.