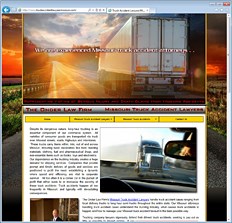 St. Louis, MO (PRWEB) September 30, 2013
The Onder Law Firm, personal injury lawyers based in St. Louis, Missouri that handle severe injury and death cases and complex products liability litigation nationwide, have just announced the expansion of the firm's Missouri truck accident website to include a Missouri truck accident news section that will be regularly updated. Because of their size and weight, motor vehicle accidents involving commercial trucks often have devastating consequences. This is often made worse by safety features that do not always function as intended. The Missouri truck accident news section will showcase regulations, product safety notices and recalls and commercial truck accident litigation that affect motorist safety.
Injuries sustained in accidents involving a commercial truck on rural Missouri roads are typically compounded by the speed at which one or more of the vehicles are traveling. When safety features such as underride bars on semi-truck trailers fail, persons in a passenger car can suffer grave injuries or death. By bringing light to news and events relating to the commercial trucking industry and Missouri truck accidents specifically, The Onder Law Firm hopes to make Missouri roadways safer for all drivers.
The lawyers at The Onder Law Firm have represented families throughout the United States, seeking justice for those who suffered as a result of negligence or a dangerous or defective product, often affecting change through litigation. The firm recently joined the nation's top consumer safety organizations in petitioning the Consumer Product Safety Commission to institute mandatory safety standards for corded window covering products. The Onder Law Firm's window blind cord strangulation lawyers have been featured in prominent newspapers such as The New York Times and Chicago Tribune. The firm's truck accident lawyers, who have handled a number of serious truck accident cases in Missouri, hope to achieve the same level of change for trucking accident injuries caused by defective safety components on semi-trucks and trailers and other commercial trucks, injuries which possibly could have been avoided.
The attorneys at The Onder Law Firm welcome inquiries from other law firms in regards to handling or working as co-counsel on Missouri truck accident lawsuits.
About The Onder Law Firm
Onder, Shelton, O'Leary & Peterson, LLC is a St. Louis based personal injury law firm handling serious injury and death claims across the country. Its mission is the pursuit of justice, no matter how complex the case or strenuous the effort. Onder, Shelton, O'Leary & Peterson have represented clients throughout the United States, and other firms throughout the nation often seek its experience and expertise on complex litigation. It is a recognized leader in products liability cases such as window blind cord strangulation and pharmaceutical litigation. The Onder Law Firm offers information pertaining to the Missouri truck accident lawyer services at http://www.truckaccidentlawyersmissouri.com/.