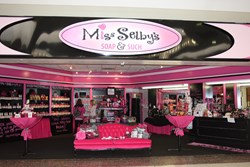 Cincinnati, OH (PRWEB) November 07, 2013
Miss Selby's Soap has expanded their already successful line of soaps and body products to three retail locations, all which have opened this year. She also expects to have all of her 200+ products available to sell via her web site by Thanksgiving, just in time for the gift-giving season.
"Of course I love our products," said Renee Selby. "But I do this because of the health benefits. Our middle child was so affected by asthma that we had to home school her. That's when I decided to make some changes in our life and making our own soap products was one of the changes."
Over the course of about three years, this once registered nurse and stay-at-home mother of three determined that she would do all she could to improve her daughter's health. She was amazed at how much changing their diet, environment and lifestyle would change her life as well. Within the first six months her daughter was off all of her asthma medications and able to go back to school.
When she eventually began making a variety of soaps for her family's use, she had so much extra that she gave it away to friends and other family members. Someone suggested she should sell it and the idea of Miss Selby's Soap was born.
The first year in business she was in a location with two other women entrepreneurs in Waynesville, OH, a small tourist town known for its shops filled with hand-made items and antiques. But after the first year, which ended in December 2012, the other ladies pulled out leaving Renee to make a decision of whether to stay open on her own or shut down the shop entirely. She decided to change the name to Miss Selby's Soap and stay open, occupying the entire shop with her ever-growing line of products.
In April, they opened their second shop in the Town Mall just off I-75 in Monroe. In August they opened their third storefront location which is also home to her production facility in downtown Middletown. Renee will be the first to acknowledge it has been a thrilling adventure. She is always coming up with exciting new products to keep customers coming back.
Each soap and product she creates is made with all natural and essential oils and other ingredients like shea butter and real goat's milk. None of her products include harmful additives such as phthalates, parabens, and even formaldehye, all of which can be found in most commercial bath and body products. Miss Selby's Soap products are free of ingredients which can irritate the skin, and often, the whole body, as in the case of her daughter.
In addition, her creative juices never stop flowing so she is constantly coming up with new products: Body spray, Bath Bombs, Shower Aromatherapy Bombs, Body Butter, Salt Scrubs, Laundry Soap, Hand Soap, Candles and a whole array of decorative soaps and products. She has partnered with other local vendors to add gift bags and boxes, purses and make-up bags and is planning a holiday event to include a special gift with purchase. All of her products except her candles are made by "Miss Selby" in her Middletown location. Her name has become synonymous with her identity and she has to remind herself that Miss Selby and Renee are one in the same!
"The one thing that keeps me going is when I get comments on my Facebook or emails telling me how much my soap has changed people lives." Miss Selby said.
Miss Selby's Soap is located in downtown Middletown, Middletown Mall and in Waynesville OH. A full selection of her products can be found on her web site at http://www.missselbyssoap.com.