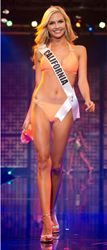 "The right swimsuit compliments a woman's shape and inspires confidence"
New York, NY (PRWEB) April 02, 2014
Kandice Pelletier Swimwear is excited to announce today that it will be the official swimwear sponsor of the Miss USA® 2014 competition.
The pageant will be broadcast LIVE on NBC, Sunday, June 8, 2014 from Baton Rouge, LA.
The swimwear designer, Kandice Pelletier, is a former Miss New York, Radio City Rockette, and two-time contestant on The Amazing Race.
"We are delighted to be working with Kandice for this year's competition," said Paula Shugart, President of the Miss Universe Organization. "She is one of the country's exciting up-and-coming swimsuit designers, and her experience, both as a designer and former competitor, is a great combination for this year's show."
The luxury swimwear is specifically designed with the on-stage competitor in mind, distinguished by its high quality fabrics, colorful accents, lining, and impeccable construction.
Pelletier believes the design of this year's suits needs to have the right balance of style and glamour, while paying tribute to Louisiana's unique cultural history. "The right swimsuit compliments a woman's shape and inspires confidence," said Pelletier. "Like a beautiful painting, it's often the subtle touches that add intrigue and depth." This year's competition will feature titleholders from all 50 states and the District of Columbia, culminating in the crowning of Miss USA® 2014.
Visit http://www.kandicepelletier.com for more information and http://www.missusa.com for competition information.