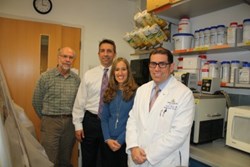 This trial has the ability to change the way cancer is thought of and treated in the United States.
Baltimore, MD (PRWEB) December 03, 2013
Believe Big and Johns Hopkins are about to embark on a historic event. Johns Hopkins, one of the top ranked medical research facilities in the world, is doing a study on a botanical substance for cancer. This in itself is absolutely remarkable. Even more remarkable is that this is patient driven, not initiated by the manufacturer, nor a researcher, by Big Pharma, or an article in the New England Journal of Medicine. There is more: this is being funded by a grass roots organization. Not Big Pharma, not the government, but through Believe Big via private donations.
Most of us are familiar with the Mistletoe that is hung by doorways during Christmas time to initiate a kiss from those that "happen" to stand beneath it. Ivelisse Page is thankful to benefit from Mistletoe all year round.
You may not know this, but Mistletoe Treatments along with a High Alkaline Diet are key components that can aid the body when fighting and overcoming cancer.
For Ivelisse Page at stage IV colon cancer, chemotherapy only offered her an 8% benefit. She knew she needed to fight her cancer another way. After much research on how to boost her internal environment and surgery, Ivelisse was thankful to be led to a anthroposophic physician who shared about Mistletoe treatment. Because of this treatment, a plant based diet, and her team of doctors (both conventional and complimentary), Ivelisse is 5 years cancer free!
Mistletoe or Iscador can be used (according to WELEDA-maker of Iscador):
· In malignant and non-malignant tumors
· Alongside conventional treatments to offset the side affects of
chemotherapy/radiation- nausea, vomiting, and lack of appetite.
· For stimulation of bone marrow activity
· For reducing the risk of tumor recurrence
· To diminish tumor-related pain
Why is mistletoe treatment not available at cancer institutions in the United States? Even though it is used all over the world and proven effective in treating cancer, until a clinical trial is done here in the United States, oncologists cannot offer this treatment as standard of care.
Believe Big, a non-profit organization dedicated to helping families navigate the cancer journey by providing resources, direction, and hope have already raised $200,000 of the $300,000 needed to complete this phase 1 trail. Anyone wishing to be part of this historic event can make a donation specifically for this trial, by visiting http://www.gofundme.com/believebig-mistletoeTrial.
"This trial has the ability to change the way cancer is thought of and treated in the United States." -Hopkins Researcher
For more information about Believe Big and this clinical trial visit their website at http://www.believebig.org