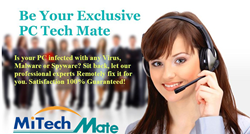 MiTechMate has proved itself one of the most promising and best PC Online Repair companies with its top service standards and service quality.
Nashua, New Hampshire (PRWEB) August 15, 2013
MiTechMate, a corporation committed to providing expert-level tech support 24/7 online for home and business PC users worldwide, now has helped over 50,000 customers since its Launch Day (March 1, 2013), and become a promising and strong force in the like industry. In the last five months, MiTechMate has seen a rapid growth on its Virus & Malware Removal Service and PC Repair & Speedup Service, achieving significant service standards and gaining good reputation among its customers.
As a new corporation under the operation of only 5 months in this industry, MiTechMate has proved itself one of the most promising and best PC Online Repair companies with its top service standards and service quality. According to recent questionnaire, MiTechMate received a 100% satisfaction rate and 98% recommendation rate from its customers, both are among the best in the industry. Moreover, according to the statistics, the words including "Excellent", "Awesome", "Professional", "Efficient", "Reliable", "Timely", "On Call", "Fast", "Friendly", "Patient", "Honest", "Affordable" and "Worthy" are the most commonly-used testimonials for MiTechMate users.
Amy M. S, a MiTechMate user from the USA, said, "My computer was in a mess when I was doing my work and I was not able to find a local shop on last Saturday night. My computer has been completely taken over by NSA Internet Surveillance Program Virus, I didn't know what it was, I couldn't access my desktop at all so scared I thought I would be put into prison. I was on my phone to get solutions then I found MiTechMate, Dennis was very professional and patient, he got me out from the blocked-screen problem. I cannot say thank you enough".
"Be Your Exclusive PC Tech Mate", this is what MiTechMate want to convey to their dear customers, and a relationship that all the MiTechMaters wish to set up with each user.
"We are not just helping our customers solve computer problems, we are making friend with them. We hope to be friends with each user, an exclusive and close friend always ready to get them out of PC trouble, please them when they get upset by computer issue", said Victor Alex, CEO of MiTechMate,Inc.
To let each customer feel the care and companionship from MiTechMate, the company promise to provide each user with effective and timely PC technical support Anytime and Anywhere.
MiTechMate staffs work all around the clock (24x7x365) to provide its customers with a wide variety of computer support services, including virus/spyware/ransomware and malware removal, computer speedup/tune-up/optimization, Windows update/maintenance, program uninstall/install, Microsoft Office setup/fix, email/Outlook setup and support, printer setup, troubleshooting & maintenance , Adobe Flash update, media files conversion, data backup and other on-demand services.
Meanwhile, MiTechMate staffs are able to provide its customers with instant help wherever they are. By applying the well-known remote software TeamViewer, MiTechMate PC experts could always help each customer solve various PC problems quickly and safely from the Remote Assistance window. "No matter where you are and what time it is, all MiTechMaters are able to help you fix your PC quickly and timely. For instance, your laptop got infected and blocked by a Homeland Security MoneyPak Virus when you were travelling abroad, then it would be very hard for you to get a local store to help you since you are not familiar with that place. At that time, you could immediately contact MiTechMate via live chat, phone call or email, then our professional experts would give you some helpful guides and have a remote assistance to remove the FBI ransomware and unlock your computer within 30 mins", said Ervin George, online PC expert and senior engineer from MiTechMate Labs.
In order to provide 100% satisfaction guaranteed service to each customer, MiTechMate sets up Labs made up of professionally trained IT experts with Microsoft Certified Systems Engineer (MCSE) & Microsoft Certified Technology Specialist (MCTS) certifications and rich computer fixing experience (over 5 years), researching and working out easy guides on removing the latest virus, malware, Trojan, browser hijacker, spyware, ransomware and Rogue antivirus, keeping MiTechMate staying ahead on Online Virus Removal service.
At MiTechMate, customers not only receive tech support from MiTechMate Online Expert, but also learn rich computer knowledge and virus removal skills from MiTechMate Blog, a interactive How-to guides center that tutors PC users to fix computer by themselves.
Well-known for its friendly and knowledgeable 24/7 PC guard services, MiTechMate team has been identified as approachable guardians for home-PC or company groups. Since its launch day, after 5 months' effort, MiTechMate PC Online Support has helped over 50,000 customers with all kinds of computer problems to date. For more information, please visit http://www.mitechmate.com/
About MiTechMate Inc.:
MiTechMate is a PC Online Repair Company founded in Nashua, New Hampshire. Currently, it has service centers in China and Japan with thousands of customers all around the world, mainly in United States, Europe, and Asia. MiTechMate is specialized in removing a wide variety of computer viruses and fixing computer problems. MiTechMate tech services are 24x7x365 available for PC users worldwide.