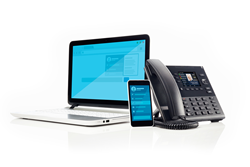 Bufalo, NY (PRWEB) August 31, 2015
VoIP Supply, North America's leading provider of VoIP Solutions, is announcing its expanding partnership with Mitel Networks, a high-tech company providing Unified Communications (UC) for business.
Mitel acquired Ontario, Canada-based Aastra Technologies, an equally well-known VoIP phone manufacturer, to offer a complete open communication solution to customers.
As part of the merger Aastra VoIP phones were either discontinued, replaced, or renamed. All Aastra products at VoIP Supply have been relabeled and transitioned over to the Mitel brand
Customers can to find the VoIP products that were formerly under the Aastra label by visiting the Mitel VoIP Supply site.
The combination of Mitel and Aastra is a billion-dollar, UC and open communications leader spanning North America, the United Kingdom, Western Europe, the Middle East, and Africa.
The quality of VoIP devices from the new Mitel and former Aastra lines has been maintained and enhanced with a stronger ability to work with any VoIP system on the market.
For more information about Mitel VoIP solutions call 800-398-VoIP or, visit http://www.voipsupply.com/manufacturer/mitel.
About VoIP Supply
We solve problems and create solutions with VoIP. VoIP Supply is a world class place to work with big goals, a clear vision, defined purpose and a dedicated team of passionate business professionals. We love what we do and do it better than any of our competition.
Since 2002, VoIP Supply has been the leading supplier of VoIP equipment and complete VoIP solutions in North America. We are known in the industry as responsive and knowledgeable VoIP product experts.
With everything you need for VoIP, VoIP Supply has grown rapidly throughout the years. VoIP Supply is a three-time Inc. 500/5000 honoree, listed by Business First as one of WNY's Most Admired Companies, as well as one of Western New York's Best Places to Work for many consecutive years. VoIP Supply is also the first Certified B Corporation in Western New York.