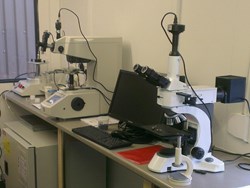 Spectrographic supplied a full laboratory which is helping Sulzer Metco to develop innovative solutions, improve performance and increase the efficiency. - Amey Pardeshi, Project Manager, Sulzer Metco
Leeds, West Yorkshire (PRWEB UK) 20 November 2013
Spectrographic, a leading supplier of new and refurbished metallographic products, equipment and consumables for material science analysis and quality inspection procedures, is now offering full laboratory installations for oil and gas industries across the UK and beyond.
Spectrographic recently installed a full laboratory at Sulzer Metco Coating Ltd's production facility in Stalybridge, Cheshire. The full laboratory installation comprised of a precision cutting machine, a mounting press, a microscope, a hardness tester and image analysis software.
Sulzer Metco is an internationally renowned company specialising in surface enhancement and the provision of specialised components, coating equipment and materials. The new laboratory facilities will be used for the development and monitoring of plasma spray coatings for oil and gas industry related applications.
"As specialists in metallurgy, hardness testing and metallography equipment, we have an excellent understanding of the varying nature of clients' needs. By offering a full installation services, we are helping our clients save both time and money," commented Paul Chippendale, Managing Director of Spectrographic. "We advise on the type of specialist equipment required, we fully install and calibrate to UKAS standards when appropriate. We also provide full training and offer regular equipment servicing.
Spectrographic worked with Sulzer Metco to introduce a testing procedure. Mr Chippendale explains how the process works: "Plasma spray token samples are sectioned using the precision cutting machine. The cleaned cut samples are then encapsulated in phenolic resin to aid sample preparation. The grinding and polishing operation is carried to achieve a true and faithful microstructure.
"The prepared sample is evaluated to determine the coating quality using a metallurgical microscope up to 1,000 x magnification, image analysis software and micro hardness tester. Tests are carried out to ascertain the quality of the coating, and to ensure company and international specifications are achieved."
Spectrographic is also working with Sheffield Hallam University to supply metallographic testing equipment and training. The equipment is being used in the research of plasma vapour deposited surface coatings by the Thin Films Research Centre, which is part of The Materials and Engineering Research Institute (MERI).
For more information about Spectrographic, visit http://www.metallography.co.uk or contact a member of the team on telephone 01274 966 173 or email info(at)metallography(dot)co(dot)uk.
About Spectrographic Limited
Spectrographic Limited is a family-run business providing a comprehensive range of new and refurbished metallographic products, equipment and consumables for material science analysis and quality inspection procedures. The company also offers specialist advice in material sample preparation, computer based image analysis and microscopic inspection.
Founded in 1999, Spectrographic was set up and continues to be run by Managing Director, Paul Chippendale, who is a skilled metallographer with over 20 years' experience. The company is based in Baildon, West Yorkshire, with demonstration laboratories in Bradford, Halifax and Sheffield. Spectrographic has recently embarked on a new partnership with The University of Sheffield Advanced Manufacturing Research Centre (AMRC) to set up a facility to support material science in advanced engineering.
Spectrographic's customers are expert metallurgists working in the automotive, oil and gas and aerospace industries, and for higher and further education establishments in the UK and Internationally. Clients include Rolls Royce, BAE Systems, Siemens, Tata Steel, The University of Oxford, The University of Manchester, The University of Sheffield, DEKRA Industrial, Massey University (New Zealand) and The University of the South Pacific (Fiji).