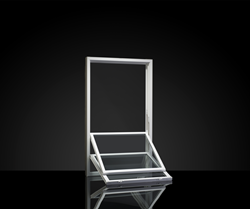 "We are happy to help even more customers achieve their energy efficiency goals through the installation of our extremely dependable double-hung replacement windows.--Tony Matter, MI's marketing director
Gratz, PA (PRWEB) September 28, 2016
Already ENERGY STAR (R) qualified in the Northern zone, MI Windows and Doors' popular 1650 double-hung windows can also be upgraded with HP low-emissivity glass to meet stringent ENERGY STAR requirements for the Southern zone. As of this past summer, the 1650 windows will also reach an expanded audience, as a new production line has been added to MI's manufacturing facility in Flower Mound, TX. The added capacity expands the availability of these popular replacement windows into dozens of new dealers in seven additional states throughout the southern United States.
"We are happy to help even more customers achieve their energy efficiency goals through the installation of our extremely dependable double-hung replacement windows," said Tony Matter, MI's marketing director. "We are committed to the continuous introduction of products that feature superior styling, handcrafted quality, and exceptional long-term performance—with our unbeatable delivery times that contractors depend on."
MI Window & Door's 1650 double-hung window is ideal for virtually any remodeling or renovation project. Beveled sashes and eight exterior color options combine with energy-efficient options such as insulated dual-pane glass and heavy-duty weather stripping to fulfill most replacement requirements. Other prominent features include:
-Metal-reinforced meeting rails for superior strength and durability.
-Interlocking sashes that help reduce air infiltration.
-True sloping sills that optimize water drainage and eliminate unsightly weep holes.
-Warm-edge spacer system that maximizes energy efficiency, improves seal performance, and reduces the likelihood for condensation in insulated glass units.
-Constant-force balance system with detent clip to help prevent sashes from drifting.
For more information about MI Windows and Doors' 1650 Double-hung Windows please visit http://www.miwindows.com.
About MI Windows and Doors
Founded in 1947, MI Windows and Doors is one of the nation's largest suppliers of precision-built, energy-efficient vinyl and aluminum windows and sliding glass doors. With plants in Pennsylvania, Texas, and Arizona, MI offers a broad spectrum of products backed by dedicated customer service. The company's commitment to safety, quality, and service are exemplified by the people that represent it nationwide.
# # #