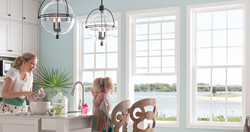 Our branding efforts are based on MI's desire to make the buying process easier and more efficient at every level. --Stan Sullivan, MI's Chief Sales and Marketing Officer
Gratz, PA (PRWEB) August 01, 2016
MI Windows and Doors has launched a new branding campaign, with an entirely new look and feel, including a new logo, tagline, literature and website. The company, with a longstanding track record serving the new construction market, has a renewed focus on remodeling & replacement with high-quality window offerings.
"Our branding efforts are based on MI's desire to make the buying process easier and more efficient at every level," said Stan Sullivan, MI's Chief Sales and Marketing Officer. "We take the responsibility of making high-quality windows and sliding glass doors personally, with vigorous in-house testing, state-of-the-art manufacturing capabilities and end-to-end support." He added that MI is poised to become the single-source solution for both new construction and the R&R markets, with unmatched warranties, superior on-time deliveries which are critical to jobsite timelines, solid window energy performance, and diverse product lines at good price points.
Along with an updated, more impactful logo, MI Windows and Doors' new literature and website feature product icons that designate exactly what each window is best used for and its features. Vibrant product and lifestyle photography illustrate the MI difference in the home.
"The new logo features a graphic with two windows linked together to represent the partnerships and long-lasting relationships that have led MI to where it is today," Sullivan explained. "This logo tells the story of MI's team, business, and heritage, and is a visual embodiment of our continuous pursuit of quality and precision." He adds "The new tagline, "Experience Clarity" is an invitation to all to experience the MI difference."
For more information about MI Windows and Doors and to experience the company's new look and feel, visit http://www.miwindows.com.
About MI Windows and Doors
Founded in 1947, MI Windows and Doors is one of the nation's largest suppliers of energy-efficient vinyl and aluminum windows and sliding glass doors. With plants in Pennsylvania, Texas, and Arizona, MI offers a broad spectrum of windows and doors backed by exemplary customer service. The company's commitment to safety, quality, and service are exemplified by the people that represent it nationwide. For more information, visit http://www.miwindows.com.
Photo Credit: MI Windows and Doors