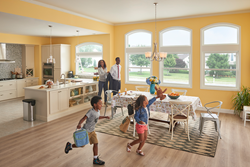 Safe home environments should be a priority of every homeowner. With the right window installation and operation, accidental falls and other injuries are preventable." --Tony Matter, Marketing Director, MI Windows and Doors
Gratz, PA (PRWEB) April 05, 2017
In honor of National Window Safety Week, sponsored by The National Safety Council's Window Safety Task Force, MI Windows and Doors has initiated an information campaign for home and business owners during the first full week of April to help prevent window-related injuries. As a proud participant in this effort designed to further the proper installation and use of windows nationwide, MI is using its social media platforms to spread the word about window safety with tips to keep families safe.
In addition to providing valuable sources of sunlight, scenic views and exits during emergencies, windows can also be a leading cause of injuries in the home if not properly specified, installed and maintained. According to the Safe Kids Worldwide 2015 Report to the Nation: Protecting Children in Your Home, more than 3,300 children are seriously injured each year by window mishaps that require a trip to the hospital.
"Safe home environments should be a priority of every homeowner," said Tony Matter, MI's marketing director. "With the right window installation and operation, accidental falls and other injuries are preventable. This process starts with the selection of quality products featuring the proper safety features for every application."
To keep families safe, MI Windows offers five tips to prevent window-related injuries in the home:

Make sure children play safe distances from windows. Do not place anything that provides easy and/or dangerous access in-front of or near windows.
Consider installing hardware that limits openings. Night latches and window opening control devices (WOCD) will restrict openings of more than four inches. This enables ventilation, while eliminating the possibility of accidental falls.
Take note of potential dangers like the hanging chords on window treatments. Children playing around windows with this type of treatment are at risk of choking and strangulation.
Teach children the proper operation of a window in case of emergencies. In some situations, a window may be the only safe and viable option for exiting the home.
Where appropriate, select windows with tempered glass, which is four times stronger than non-tempered glass and resists shattering into jagged shards when broken.
To learn more about MI Windows and Doors' products and for more about window safety, visit MI's website (http://www.miwindows.com) or Facebook page (https://www.facebook.com/pg/miwindowsanddoors/photos).
About MI Windows and Doors
Founded in 1947, MI Windows and Doors is one of the nation's largest suppliers of precision-built, energy-efficient vinyl and aluminum windows and sliding glass doors. With plants in Pennsylvania, Texas, and Arizona, MI offers a broad spectrum of products backed by dedicated customer service. The company's commitment to safety, quality, and service are exemplified by the people that represent it nationwide.