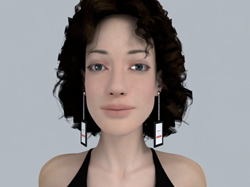 (PRWEB) September 13, 2013
MJ Mclaren is a young American company that creates wearable jewelry with advanced technology features. Their latest product is Video Earrings, a trendy pair of earrings that can play videos as the wearer walks, runs or dances. The perfect item for trendy women and girls, Video Earrings has already won rave reviews all over the net. The product has been featured on tech websites such as CNET and Gadgets Magazine.
Currently, Video Earring is part of a crowdfunding campaign at Indiegogo. MJ Mclaren hopes to raise $10,000 in pledges by September 23, 2013. The Indiegogo link for this project can be viewed here: Crowdfunding campaign.
What MJ Mclaren has set out to achieve is something that has never been conceived before. The company has on its side the support of some great technical wizards focused on making this project a resounding success. With the right financial backing, Video Earrings can become the next big thing in the world of fashionable technology.
MJ Mclaren is excited with the potential this product offers. With Video Earrings, the company has a product that can take the world of fashionable earrings to a completely new technology level. These revolutionary earrings follow a "video everywhere" policy, which allows the wearer to enjoy videos wherever he or she is. The product will feature a scratch-resistant design and will be accompanied by a polished and clean look.
All earring gadgets released by MJ Mclaren will have a trendy and eternal look, allowing them to complement most outfits worn by young American women. The company has chosen black as the primary choice of color for these earrings but silver earrings are also being made. Each Video Earrings device will have 4 to 8 hours of video storage and playback.
The video screen has a length of 2.01 inches and a height of 1.01 inches – big enough to enjoy quality videos while on the move. Almost all major video file formats will be supported, including .mov, .avi, .mp4, .mpeg, .mpg and .mp4. The device will have storage capacities of 2GB, 4GB and 8GB. If the crowdfunding campaign goes well, Video Earrings will be available at retail stores in the following price ranges: $200 for 2GB, $249 FOR 4GB AND $300 for 8GB.
Currently, MJ Mclaren has made several prototypes and tested them successfully. The financial backing received from this crowdfunding campaign will allow the company to improve further on the prototype to create a product that is durable and long-lasting. Part of the funding will also go into market research that helps to create a concrete marketing campaign that will further strengthen the product's sales capabilities.
MJ Mclaren has several futuristic designs in the pipeline – these will see light of day as well once production begins. Those who pledge to Video Earrings can be assured that their money will be put to good use by people who are at their creative and technical best!