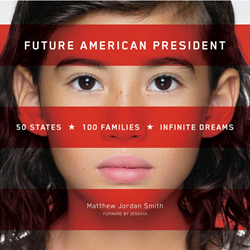 What an experience to work with families and photograph children in all fifty states!
Sarasota, FL (PRWEB) March 19, 2015
Just about every professional photographer has a dream of some day publishing a book of their own images. Matthew Jordan Smith's new book,"Future American President", not only demonstrates his own dream of a collection of his images, but the dreams of children across the country.
From the whimsical to the serious, Matthew Jordan Smith has captured the essence of their goals to be president in both their portrait and their hand-written dreams. That old expression, "from the mouths of babes" couldn't be more accurately displayed over and over again in this stunning presentation. The book is already receiving great reviews, nothing but "five stars" on Amazon, for example.
One reviewer wrote,
"I can honestly say that my 7 year old twins have looked at the book more then anyone else in the family. They love to read the individual letters each child has written and try and guess which state each picture was taken. I recommend this wonderful book for all families."
The success of the book is in part due to its primary focus on family values, our children and obviously their goals and dreams. Matthew's personal tag line for years has been, "Always Dream Big" and the book is a perfect example of his dedication to do just that.
T he Boys and Girls Clubs of America have also been involved in the project and helped early on in coordinating some of the shoots. They're helping to spread the message of "Future American President". Impacting the lives of more than 4 million children annually, Boys & Girls Clubs of America operates more than 4000 unique locations throughout the country. Established in 1860, it is the mission of BGCA to enable all young people, especially those who need help most, to reach their full potential as productive, caring, responsible citizens.
There's also a remarkable opportunity for the corporate world to be directly involved. Depending on the quantity purchased, Goff Books can design a customized cover for virtually any company. A customized cover, tying in a company with their own message encouraging families and the youth of America to pursue their dreams, gives the book a unique perspective on marketing and brand-building.
For more information on customized sponsorship of "Future American President", book signing events and public presentations contact Skip Cohen, skip(at)mei500(dot)com.
About Matthew Jordan Smith
Based in Los Angeles, Matthew Jordan Smith has worked with some of the top names in entertainment today and many international clients have used his artistry to showcase their vision. He has appeared as guest photographer and surprise judge on the hit TV show America's Next Top Model numerous times and has appeared on The View, Good Day New York, and BET. He counts among his many magazine interviews InStyle, Essence, Photo District News, Rangefinder, and Professional Photographer. An active volunteer with several art schools including Pratt Institute, Parsons School of Design, and RIT, as well as a board member of Kids with a Cause Europe and APA/LA.
For more information regarding Matthew's work in fashion, editorial and fine art family portraiture contact him directly at mjs(at)matthewjordansmith(dot)com.