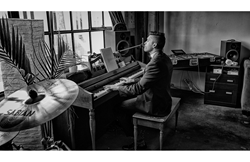 Let's De-Objectify Women!
Los Angeles, California (PRWEB) September 16, 2014
Last week Music Producer/Artist DeLon put up a Youtube video wanting to pay homage to all the intelligent women in the world asking his fans to vote for who they thought is the smartest girl they know. Fed up with the way women are always objectified, he felt like it was time to De-Objectify women and see past their bodies.
The video is very raw and it can be seen that MJW's Producer really wants to seed change in the world. The video was meant for people to vote for the smartest women they know, in an effort to change consciousness by taking concentration off of a woman's body and putting it on who they are, as a person. MJW's Producer, DeLon, asked his fans to vote and they did. The next week a winner was chosen and given a cash prize, as well as a "Certificate for Exceptional Achievement."
http://www.mjwmusicproduction.com/blog/lets-de-objectify-women/
In the video, DeLon himself admits to having had a lot of bravado and making a conscious effort to change. Whereas, most artists who have reached his level of success want to put on a veneer and separate themselves from their fans, DeLon says, "I couldn't be more like you than you could ever imagine."
In an effort to start giving back to the community at large, he has started a series of videos going against the grain of social agreement to create change. This week's video is called "Let's De-Bravado Men," a video congratulating the kindest and most gentlemanly man. The purpose of this video is to show men that just because they may be rich, famous, and/or powerful, doesn't mean they are entitled to be cocky and/or self-absorbed. This voting marathon is still in full force and can be viewed via MJW Music Production's Blog:
http://www.mjwmusicproduction.com/blog/lets-de-bravado-men/
MJW is a full service music production company focused on producing Top 40 and EDM/Dance music. MJW works with seasoned professionals and up and coming artist who are looking to find "their" sound. DeLon, himself, is a world famous Producer/Artist who has had a #1 on MTV's platform, multiple releases on iTunes, and toured the world.