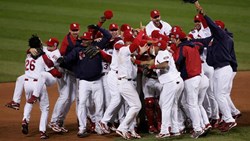 (PRWEB) September 27, 2013
Attention: Baseball fans everywhere that want their team to make it to the playoffs and then the World Series. Fans may be asking how to get into one of these games. The following is all the information one may need to obtain a ticket.
First thing to know is that it is going to be pricey. A ticket to the first round of the Divison Series starts a little above a team's regular season ticket price, but will only go up from there. Prices at each stadium range though, so how much money fans spend depends on where they go. For instance, bleacher seats with a horrible view and tight squeeze will only cost a few dollars, while the better seats will be up to $500 each. And that is not even the highest price for a ticket, as the suites and luxury boxes are not available for purchase to the general public. This is all worthless anyway if those team's that are playing won't even sell their tickets. In order to get a ticket, fans may need to go through a registration process, and this varies from club to club. After season ticket holders are given first pick, most stadiums offer a lottery to the rest of us normal citizens. The earlier fans enter, the better chance their is of getting picked for a ticket.
Now, a ticket to the World Series is a whole other animal itself. Here are a few things baseball should know about purchasing a ticket:
1.) Be ready to pay a large lump sum. The least expensive ticket will be around $400, and that's just for standing room only. The best seats in the house can sell for as much as $10,000, or at least they did at last year's World Series, and who can afford that anyway? Suggestion: wear comfortable shoes.
2.) Buy season tickets, or find friends or family that already are holders. Since season ticket holders get first dibs on tickets, and usually at face value, this is a good way to be prepared. Suggestion: be very nice to season ticket holder friends.
3.) Buy tickets far in advance. The best chance at getting a ticket, and on the less expensive side, is to buy them as soon as the team qualifies. Fans can do this online or by phone. Hurry though, they sell out fast.
4.) Check, check, and check again! If there is no luck before the big day, keep checking. Sometimes on the team website, seats become available, or on sites like Ticket Master or StubHub who have agreements with some teams. Tickets can still be available for purchase even up to one hour before game time. Suggestion: don't ever give up. Until its the couch and TV for watching the game, then its probably too late.
Conclusion:
Check, check, check, and plan ahead. One can never be too early or prepared, so jump on those tickets as soon as the team qualifies. Be mentally ready to pay a lot of money, but hey, that is what saving is for. These opportunities do not come around often, so if there is a chance of getting a ticket, take it.